by adagio teas



(18 reviews)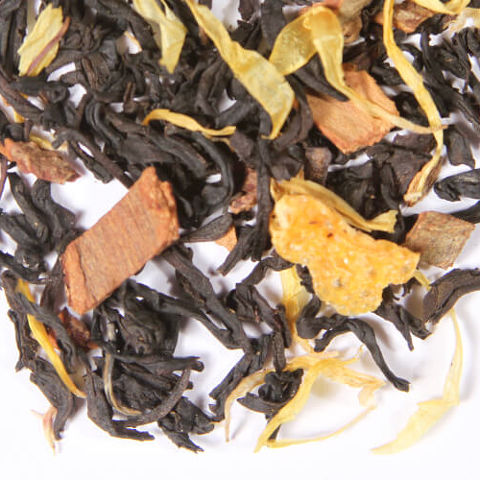 Decaf seekers looking for depth of flavor, look no further! Our Decaf Ceylon tea blends with the warm, soothing flavors of hazelnut and cinnamon, paired with silky crème, to evoke happy memories. Rich and comforting, decadent without being heavy. Ideal for both hot and iced tea lattes, perfectly paired with a cozy fireside in any season.
Our natural creme flavor is vegan-friendly and doesn't contain any dairy ingredients. Steep at 212°F for 3 minutes
Recent reviews
I don't usually like black teas but I really enjoyed this one. I'm sure this will be a blend that I keep on hand.

This is my favorite comfort blend for nighttime sipping! Sweet and creamy, nutty and spicy. Adding a touch of cream and sugar brings all the flavors together. Wonderful!

Boy did this one surprise me! I went into thinking I wouldn't like this. It is an outstanding blend, rich in taste and balanced flavors

Hazelnut is a favorite flavor and decaf teas also enjoyed in our house.

This tea by adagio is really nice and brings that hazelnut warmth and flavor!

This is one of my favorite teas. It's hard to beat hazelnut and cinnamon, but this blend is heavenly.

I really liked this tea, its creamy, nuttly, cinnamony.

RJ

One of my favorite decaf teas. Great with a little sugar and milk for an after dinner dessert drink. I don't taste that much cinnamon flavor but the hazelnut is very nice.

EC

I've tried a LOT of tea from Adagio - both from the CommuniTEA and from just buying bags - and this is one of my all-time favorites! It kind of reminds me of a pecan praline. It's nutty and cinnamon without tasting too artificial. I love that it's decaf and I can have it anytime of day. The smell and taste reminds me of how the holiday season feels - warm and wonderful. This is a repeat buy for SURE!

CK

Tastes quite similar to Bigelow Vanilla Chai, of which I'm not a fan. However, if you like the aforementioned tea then this is certainly a step up!

CB

It's rare I find something worth drinking that doesn't have caffeine, but this tea is phenomenal. Just the right balance of cinnamon and nutty sweetness, but not so much that it overpowers the flavor of the tea leaves. So, so good!

A nice sweet treat with a strong scent of cinnamon and nuttiness. Great to tame that sweet tooth after dinner.

This is SO nice after dinner, it's almost like a dessert!

this is a fabulous addition to the many teas ive tried

I like having this one at night. Nice sweet flavor without the caffeine.

EB

This tea is like a rich dessert. It always tastes like a decadent treat, especially with milk. Yum.

The nuttiness from the hazelnut and the cream flavors work so well together to create a perfect blend that feels like you are drinking a decadent dessert, absolutely in love with this one!

My favorite to to tea, I buy in bulk! Upon opening the bag, the smell is amazing. I drink this one with vanilla creamer pretty much daily.