by adagio teas



(35 reviews)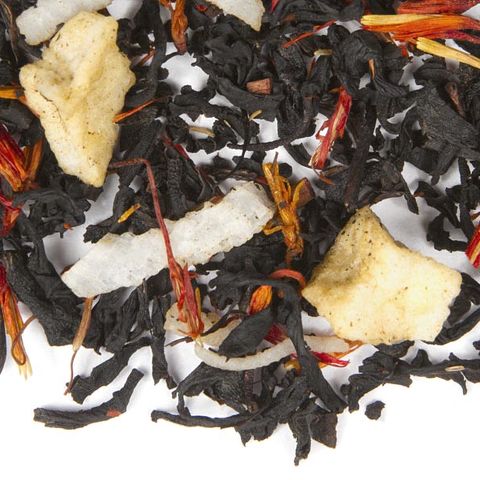 Served hot or iced, our Thai Tea adds something refreshingly exotic to your day. Blended to replicate delicious Thai restaurant tea at home with notes of coconut, cardamom and vanilla. To tickle your taste buds with a tantalizing authentic experience, prepare your own traditional Thai Iced Tea by pouring the freshly brewed tea over ice, topping it off with your choice of sweetened condensed milk or coconut milk. One sip, and you will feel as though you've been transported straight to the streets of Bangkok. Steep at 212°F for 3 minutes
Recent reviews
AD

I add milk, sugar, and Boba. This inspired me to make this into Boba milk tea and I am so happy because I'm not pay $6 per cup.

KK

I believe this tea does come closest to the tea in Thai restaurants. Amazingly smooth and creamy just add some cream and a drop of honey and your in heaven.

The black tea overpowers the delicate Thai tea flavor that it was intended to be, but it's still very tasty with a hint of coconut. This tea blends very well with milk or almond milk.

Didn't stand out for me, but pleasant nethertheless

I enjoyed this tea, but it wasn't quite what I expected from a Thai tea. I've tried it iced and hot, and both times the vanilla notes are the most pronounced flavor. A touch of sweetened condensed milk makes it a nice treat.

Thai tea is my favorite, and I was expecting it to be milk tea, it wasn't but still good

lovely flavor blend from adagio - i like coconut and enjoy cardamom

I wouldn't know much about traditional Thai tea, but I did enjoy this tea. It had very natural coconut, vanilla and spice flavors. It does need sweetener though and doesn't seem to have much native creaminess to me so a dairy additive was required. I would recommend this to anyone who enjoys Thai or tropical tea.

I was hoping for the Teavana version as that was a favorite of mine. But this has a couple of extra ingredients that didn't hit the mark for me. Maybe I should have brewed at a lighter temp or had it iced like I did at Teavana but this disappointed me.

CN

I'm typically not a coconut fan, so I was a bit nervous to try this out. However it was sweet and pleasant and hits that thai tea craving. I definitely recommend adding in some boba pearls to make your own bubble tea.

Great black tea with notes of coconut and vanilla. Reminds me a lot of a Thai tea from a local Thai restaurant. Next time I'm gonna try adding some coconut milk.

Didn't care for the flavor combo, too much going on.

JI

This tea is fabulous! Perfect over ice or with a touch of milk

It's ok. I love all the flavors separately, and any 2 are great. All three together is a bit much.

MA

Thoroughly enjoyed this tea hot with a little added sweetner (sugar or sucrolose). It was also good with a small amount of milk.

I enjoyed this tea. The coconut flavor is delicious with the hint of cardamom and vanilla overtones is perfect.

JG

This tea is excellent. Drink it straight black or add some cream and sugar. I usually pick this one when I get home from work and need a boost.

Nice Thai-restaurant flavor going on, and I appreciated being able to make it a bit less sweet.

More like coconut cream tea, but I'm not complaining! It was great with cream and sugar.

I mostly taste coconut and vanilla. The rooibos adds a nice flavor and the black tea makes it all richer. I think adding sweetened condensed milk as suggested would be fantastic.

CK

This is a smooth and easygoing tea, just not one I particularly enjoy. I would quite like this blend if not for the coconut, which is one of my least favorite flavors in general. However, if I even somewhat enjoyed the coconut element in this tea, I'd certainly drink it again.

I was able to steep this twice. The first for 5min at 200oF, the second for 8min at 200oF. My first steep I tried iced, with a spoon of sweetened condense milk. I probably added a touch too much condensed milk because it seemed like the tea flavor was overpowered, and had a powdery aftertaste. The second steep I drank hot with a bit of sugar, and whatever condensed milk I didn't bother to clean from the spoon (very little). I definitely liked the second steep better. I don't know if it's that it was hot, or because it had less milk, but much more flavor came across. I could actually taste the coconut. I only wish I had tried it hot the first steep, I can imagine how much better the flavors might've been.

Loved this! With milk and sugar, it's like a hot version of bubble tea Thai tea. The coconut is strong in this, which is awesome since I like coconut.

Strong tea. Don't oversteep and use up quickly as the coconut can go rancid quickly. It's good when you follow the instructions properly

This tea is very interesting and unique. I really enjoyed it

MW

If you're too full for dessert but want something sweet, this tea is for you!

Not real authentic Thai tea like I usually get from my local Thai restaurant

One of my favorite teas! I make sure to order it every time. Very different from my other teas I drink.

Interesting tea, but not what I was expecting. I can only taste coconut in this tea - no other flavors. It's okay, but not what I was expecting for Thai tea.

I bought this in an attempt to recreate Thai iced tea at home (I got a bubble tea kit for Christmas). Although it works in a pinch, it definitely is not the same as what you traditionally can get. It's a standard level of good--nothing overwhelmingly amazing, but not horrible.

This is not a traditional thai tea. It would be more accurate to label it "thai inspired" but even then, it doesn't hold up to expectations. Too sweet and not deep enough of a flavor.

The coconut and vanilla flavors barely come out, this tastes mostly of black tea with a slight hint of spice from the cardamom and a little bit of coconut at the back of the mouth, I've yet to try it with milk but I don't see that making a phenomenal difference with this one

I love Thai tea. I worked in a Thai restaurant and in a Thai owned boba shop. This just doesn't cut it. It smells so sweet, but I literally can not brew it strong enough to even comfortably add cream without ruining any flavor. It never forms that deep sticky-sweet flavor I'm so used to. Without the expectations, I think it would be an alright tea.

Very strongly sweet smelling. I have a hard time even opening the tin. The tea itself is strong, but Thai tea is strong...It's just not for me.