by adagio teas



(36 reviews)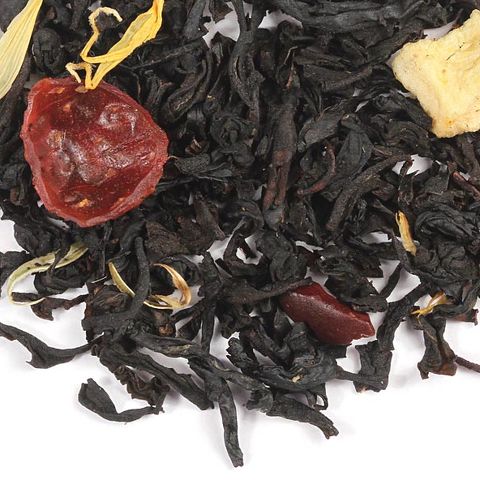 If you have a sweet tooth, then have we got the tea for you. The moment you open the pouch of our Butterscotch tea, you are enveloped in the aromas of a confectionery shop. Sweet, buttery and whimsical flavors are infused into this desert tea and rounded off with hints of apple, cocoa nibs and marigold. A delightful way to satisfy those sweet cravings. Steep at 212°F for 3 minutes
Recent reviews
KW

This was a pretty good tea. I didn't taste too much butterscotch but over all yummy tea.

A rich, comforting tea with a sweet butterscotch flavor. I found it didn't hold up for a second steep though, which isn't really the teas fault, but just something to note.

The aroma of the dry leaves is of sweet butterscotch. But the black tea overpowers the flavor. The butterscotch becomes more pronounced as the tea cools, however.

this one is pretty addicting i wont lie, i have got it a couple times now

CK

I tried this last year, I bought a sample. And recently i had a CommuniTEA packet of it. Both times, this smells and tastes more like chocolate than butterscotch. butterscotch is there, but I wish it was more prominent than the chocolate. once it cools, the chocolate comes out even more. i was little disappointed in this blend. It's still delicious, but not true butterscotch.

This is good! Strong butterscotch flavor. I didn't get the chocolate from the cocoa nibs, though. It was a bit bitter @ 212/3 min., had to put honey in it. Next time will brew at a lower temp.

the flavor is 'interesting' but am not yet certain - think i'll try again. new idea is 'dessert tea' stops one from eating ... ?

CN

Love this tea! It smells amazing when you open the bag. Taste is on point too with butterscotch hard candies. I honestly might prefer this over the caramel one since the flavour is more prominent.

This blend is spot on! It's a lovely warm butterscotch with a touch of sweetness. Not so sweet that it's cloying, but just enough to remind you of the candy.

Steeped at 212F for 3min

wow! add a little milk and sugar and it tastes just like one of those old school butterscotch candies. This tea is so good.

This is way better than the caramel tea, which is honestly kind of overly-bitter and gross. Even my Mom, who doesn't like tea, comments on how good this smells when I make it.

EC

This is one of the very best single-flavor teas I have had from Adagio -- in fact, from any company! It's wonderful on its own. It has a great caramelly flavor that is way more robust than the caramel-flavored tea. I am sure it will be excellent in blends as well. Great hot or cold!

This is a sweet and buttery tea, even without sugar! I frequently get asked, "What IS that? It smells incredible!" They are surprised when I tell them it's a black tea. It's a great way to wake up and get caffeinated.

Even my non-tea-loving husband and daughter really enjoyed this. It tastes like warm butterscotch pudding with a touch of sugar added.

Definitely smells like butterscotch, but doesn't quite taste like it. Maybe I'm not using the right sweeteners to bring out the flavor. Still good, but not as good as I wanted it to be.

I really liked this! It's sugary sweet and is especially good with cream and sugar.

LD

Initial scent is a wave of butterscotch. I was afraid it would be overwhelming. Thankfully it mellowed out in brewing, making a lovely, mild cuppa. Would make a fantastic latte.

JM

This is one of the best smelling flavored teas ever. If only the flavor matched the scent, but they never do. Still one of my favorites though.

AW

I loved the smell--it's exactly like the pastry!--but I didn't actually much enjoy drinking this tea. It was very sweet smelling, but I didn't find it tasted much like the cookie.

I'm sorry to say I didn't enjoy this one. I added some sweetener and almond milk thinking it would perk it up but it didn't happen. I was disappointed with this one. :(

Has a very sweet aroma. Flavor wise it's very sweet and good with some creamer. Almost too sweet for me though.

This tea smells and tastes very strongly of butterscotch. I add just a bit of sugar. I drank it without milk, but I think it would probably taste good with milk or cream added.

Good tea. Strong flavor. At first it seemed to have a hint of scotch but then I realized that it's all herbal. Interesting tea

So good! I love the sweet, almost candy like flavor of this. It's a perfect dessert tea.

This tea is very smooth with milk and sugar. It has such a lovely fall flavor.

It smells like butterscotch but smell and taste dissipates as soon as the water hits the tea

This tea is not for me. I can imagine people who like black tea with milk and sugar enjoying it or as a dessert, but its just a bit too intense for my taste

One of my absolute favorites. I love it. I mix in some Tiger Eye every now and then or some cream tea. Very good.

The dry leaves smell like candy, but the brewed tea is really astringent. It's fine with sugar or milk added, but it's hard to drink on its own

I think this has a really nice flavor. Not my absolute favorite - I think the Chestnut still beats this, in my opinion. But still a nice tea.

Very good and natural butterscotch flavor with a light natural sweetness that satisfies my creamy butterscotch candy cravings!

LP

This is delicious tea. It tastes just like butterscotch and I am thrilled that I no longer have to spend a lot of money at a local tea shop. I can make it right at home!!!

The aroma is amazing. The flavor is very nice. I like this as a desert tea.

A toasted, dark but mellow, sweet drink somewhere between toffee and caramel. The flavor is straightforward and nostalgic, leading to a satisfying and comfortable sip. Perfect for perking up in the morning with a caffeinated and carbs-free way to satisfy your sugar cravings. I find this tea especially enjoyable during the autumn season, ideal for bringing to mind trick-or-treating, firesides, brisk mornings, and cozy evenings.