by adagio teas



(20 reviews)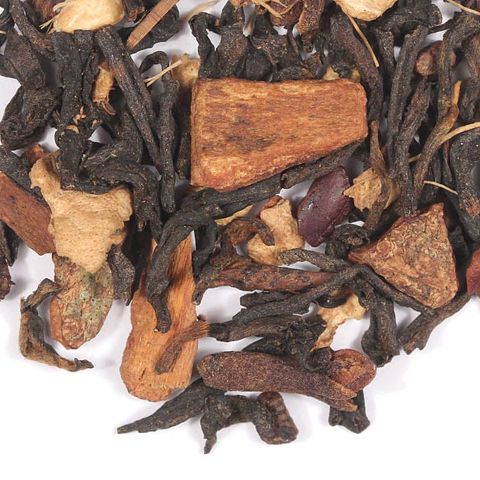 Smooth, rich and comforting. Our Chocolate Pu Erh Chai hits all the marks for the perfect afternoon treat. It has everything you love about a good spicy chai, the boldness of chocolate and the silky mouthfeel that only pu erh can bring you. This is one flavorful cuppa that is sure to satisfy. Steep at 212°F for 5 minutes
Recent reviews
PJ

Best fall morning tea that wakes up my tastebuds on brisk mornings. Oddly enough, it tastes even better when it's perfectly cooled to warm, I found by accident having brewed a large pot. I like the thickness of this tea with creamer.

Zathrus Say's "This isn't the one" but its good none the less. One of the better complex chocolate chai teas out there. Better than Adiago's own chocolate chai IMHO and better than anything Harney's has or my local shop. In lieu of David's Chili Chai...this has been my favorite caffeinated chocolate based chai.

WOW is this delicious!!! I am normally not a fan of ginger in my tea, but this works perfectly with the other flavors to make a rich, complex, delicious cup of heaven! I might up the amount to 2 tsp/cup instead of 1 tsp to make it a little stronger, otherwise it's perfect! Brewed 5 min at 209 with no pre rinse.

There is a lot going on (in a good way) with the tea--the earthiness of the pu-erh, spiciness of chai, and subtle hint of chocolate. I steeped at 200°F x 5 minutes, with no pre-rinse. A bit of sweetener further intensifies the flavors and elevates the tea to a dessert. Very smooth and flavorful tea.

When hot, what I mostly tasted was chai spice, a lil heavy on the cinnamon, but not at red hot levels. As it cooled chocolate flavors bloomed, and the earthy pu erh helped deepen those flavors. There was still spice hanging out, but it didn't overpower the chocolate flavor. A really good combo, chocolate and spice.

Rinsed and dumped, 200F 15sec

Steeped 2x, 200F 5min

EC

I don't like chai, but I do like chocolate flavored tea. This wasn't a good blend though. And the "dirtiness" of the Pu-Erh didn't make it any better. That along with the yucky sweetness of the cinnamon made this a no go for me. :(

This chai was very good steeped at the recommended 212 degrees for 5 minutes. I had it with milk and sugar, and the spices still shone through just fine along with that additional chocolate flavor which isn't usually found in chai spice blends.

Ginger, chocolate and cinnamon are balanced with the Pu erh to creat a new chocolately chai when cream and sugar are added.

Mostly got some nice gingery flavor my first steep, with some good chocolate accents. The second steep was more earthy and mild, but delicious.

Mild tea, mild spices. Tasted mostly cinnamon, a little cardamom and lots of clove. Didn't get much chocolate, but it probably contributed to the smoothness.

Chocolate and spice and everything nice. I am new to pu-erh but this was a great opening volley.

One of my absolute favorite dessert teas. Excellent hot or iced, with or without cream. Beautiful deep, dark chocolate notes that can be savored.

Brewed 5 minutes at 212F with rock sugar added.

The scent is mostly of cinnamon bark. The brew itself is a delicious cinnamon forward chai. I'm not getting many chocolaty notes, but this tea is delightful non the less.

Next time I plan to make a latte with it.

TB

Really enjoyed this one. Maybe lighter chocolate than similar styled teas but very good.

Overpowering ginger and a strange, funky pu-erh smell made this far too unpleasant to drink.

Yummy tea. I got it as a gift from my friend and it's very good.

There were elements of chocolate to this tea, but the earthiness and spice were much more prominent

This tea was nicely spicy but didn't really have much of a chocolate flavor.

This tea captures the taste of "evening autumn spice." The mellow chocolate overtones give it the sweetness of a dessert, but the chai elevates it to a harvest-flavored tea. Great for enjoying in the evenings (just watch the high caffeine quantity!) or mornings when your sweet tooth is calling. The instructions recommend two heaping teaspoons per cup, meaning you go through this tea much faster than most. If prepared according to recommended serving size, this tea leaves a spicy kick and sizzle on the tongue. For a milder sensation, I recommend cutting the teaspoon size in half.