by adagio teas



(22 reviews)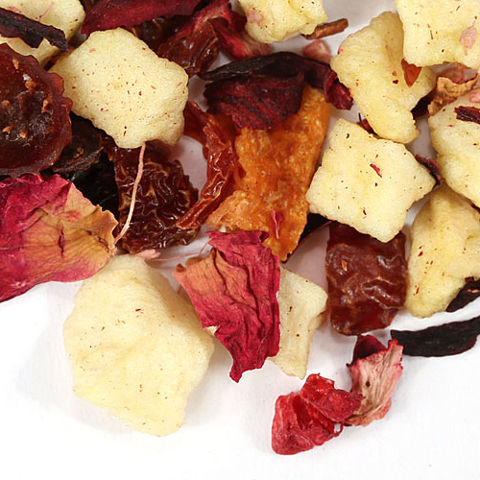 Lightly spiced with cinnamon and ginger to accent the gently sweet notes of pomegranate and provide a warming tingle on a chilly fall day. Hibiscus and rose hips add lively layers of flavor. Steep at 212°F for 7-10 minutes
Recent reviews
CK

One of my favorite Adagio teas! delicious balance of fruity and a slight spicy flavor. Good iced or hot, and good in summer or winter. Just one of those all year round herbal/fruit teas! Tastes similar to Passionfruit tango.

The aroma alone is awesome, and the taste lives up to it. The hibiscus and rose hips do not overwhelm, and all of the promised flavors make an appearance (though the pomegranate tastes more like cranberry to me). It is mildly tart, with a sweet, spicy mulled cider vibe. I could do without floral notes, but the rose petals are easy enough to pick out. I liked it best using 2 tsp of dry tea in 12 oz water.

I really wanted to like this tea, but the floral notes were overwhelming, and there is a peculiar aftertaste.

DR

oooooooooooooooooooooooooooooooooooooooooooooooooooooooooooooo

Not a bad tea. It smells closer to cherries to me as does a lot of pomegranate flavored items. The taste is deliciously fruity with a hint of tang and spice. Its good both hot and cold.

Nice, rich pomegranate flavor, balanced perfectly with spice and just a hint of sour undertones.

Yummy spicy but sweet pomegranate flavor with an aftertaste of the tangy sour hibiscus

Smelled like a pie or crumble when brewed, and man did it taste like one too. The ginger and fruit played well, giving a tasty brew that I'd happily drink again.

CK

Maybe there was a problem with my kettle or something but I could taste no trace of pomegranate. In its place was more of an apple pie flavor which, while not unappealing, isn't the selling point of this tea.

If this blend just had pomegranate, rose, hibiscus, and berries, I think it would have been good. The addition of the ginger, cinnamon, and orange takes it to a whole new level and I am loving it! I tried this in the communitea box and it is definitely going on my wish list.

I thought I'd like this. I like fruity, sweet teas, and it smelled good.

However, it was very tart, from the hibiscus I'm guessing. It overpowered any other fruit flavors. Then it had a lingering ginger aftertaste I wasn't a fan of.

If I tried this again, I would try to cut this with, perhaps, a green tea.

Reviewed from CommuniTea. Steeped 8min at 212F

My first experience with this tea was bad. Way too much spice and almost no pomegranate flavor. Well, either I had a bad bag or the formulas been changed... this is great! Much better balance and full of pomegranate goodness.

This tea tastes like a juicy pomegranate topped with mulling spices. It is both tart and sweet and a beautiful pink color. This tea would be good for walking around the neighborhood checking out people's Christmas decorations.

A delicious and sprightly herbal. It's a fabulous fuchsia color with tart and sweet and tangy and warming notes. Smells of spiced cider, but tastes of pomegranate and hibiscus.

Wow! If you like fruity teas with delicious spice elements you'll love this one - I know I do! A great balance between the two. It's not for everyone, but it's definitely for me. A great fall or winter tea!

I'm not really into this tea, mostly because it reminds me of the hand soap in Target's restroom.

Interesting mix. Not really my type. The pomegranate flavor is kinda weak to my opinion

I liked the cinnamon in here. It is different than adagios other fruit teas because of it. It makes a great fall tea.

LD

A really nice spicy, fruity blend. Great hot or cold-brewed!

Reminded me of mulled wine. I was expecting something bright and fresh, but this was much more comforting.

This was nice but I'd love a non-spiced version. The fruit flavors are yummy.