by adagio teas



(14 reviews)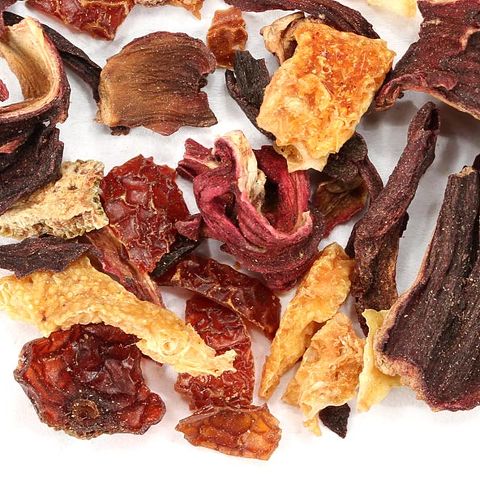 The
Blood Orange
is a culinary favorite, with its deep vibrant color and sweet, tangy flavor. A perfect ingredient for a refreshing herbal blend! Our
Blood Orange
tea pairs
Blood Orange
peels with hibiscus flowers and rose hips for a naturally sweet, caffeine-free flavor. Rich, hearty and tangy, with a good balance of orange peel dryness and fruit juiciness. Steep at 212°F for 5-10 minutes
Recent reviews
Good flavour. I really enjoyed this tea. Might order again.

Good citrus flavor. Deep rich color. Definitely a favorite.

Delicious herbal tea with a nice blood orange flavor. It mixes well with other fruity teas as well. I always have some of this around. It makes for the perfect iced tea!

On of my favorite teas of all time, the blood orange flavor really shines through with this one

KK

A little weak on flavor, I was kinda disappointed. Also, the ingredients swell quite a bit when they reconstitute in water, so using a single cup infuser gets crowded. Not really a problem, just a heads up.

The hot version is too bitter, you really need to cold brew this one.

I admit that I haven't tried this hot yet, but that's only because I love the iced tea version so much! It's our summer staple in our house!

LL

This has a very good flavor of citrus yet sweet. One of our favorites! I couldn't get 5 stars when I rated. It quit at 4.5 but it is a 5.

Not my favorite, though not bad. The orange flavoring overpowers the real orange

This tea is great! Tart, sweet, and bright. I definitely prefer it iced, sometimes with a bit of honey or agave (though it doesn't really need the added sweetness).

Sweet, tangy, and rich without being sour, bitter, or pungent. This tea is perfect for a succulent, caffeine-free evening or ideal for icing and sipping during the summer. As a bonus, it also makes a great Halloween tea due to its name and color! If you're a fan of fruit teas, put this one on your list right away.

I'm a huge blood orange fan and this tea does not disappoint. I've even mixed it with some chocolate tea from Adagio and it tasted like a Terry's Orange milk chocolate.

Very nice smell and great red color when brewed. I got it mostly to mix with chocolate tea and it did not disappoint.