by adagio teas



(48 reviews)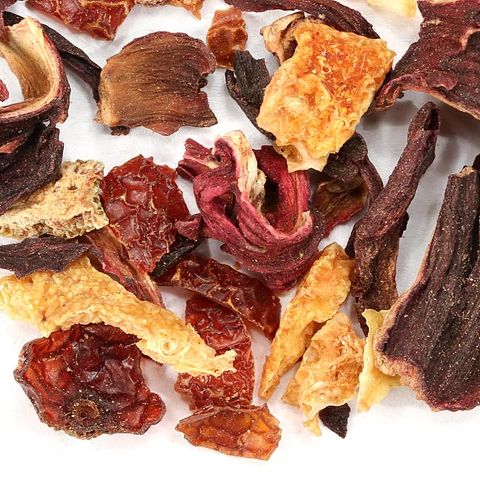 The Blood Orange is a culinary favorite, with its deep vibrant color and sweet, tangy flavor. A perfect ingredient for a refreshing herbal blend! Our Blood Orange tea pairs Blood Orange peels with hibiscus flowers and rose hips for a naturally sweet, caffeine-free flavor. Rich, hearty and tangy, with a good balance of orange peel dryness and fruit juiciness. Steep at 212°F for 5-10 minutes
Recent reviews
KW

This was by far one of my favorite teas to ice in the summer! The orange flavor is so refreshing and really hits the spot.

The dry tea smells wonderful and steeps to a such an intense red. The hibiscus adds quite a bit of tartness that is tamed by the addition of a little honey. Good sipped hot and cold.

AD

This taste like orange kool-aid. I love this iced.

CK

This was one of the first Adagio teas I tried, and recently tried again in my Communitea packet. It's very strong smelling in the pack, smells like orange rind. But once brewed, the hibiscus takes over. Not a bad tea, but wish it had more orange than hibiscus flavor.

I really didn't like this one. Too tart, between the hibiscus and rose hips. It is very pretty however. (It might just be me cuz I really don't like hibiscus)

Very nice, tart cup with a beautiful color. Great summer tea, and wonderful iced.

One of my favorite teas. Excellent blended with the wild strawberry and the berry creme compote.

Not really for me

But my mom's favorite tea

Strong, flavorful, tart

(Haiku review)

Not as orangey as I'd like but far from gross. I'm just not a hibiscus fan.

TR

Add this to the list of teas you want on hand when you're feeling ill! I'm probably gonna go with this on date nights going forward when I want to keep my throat feeling okay

MMMMM. Reminds me a lot of the Zinger teas from Celestial Seasonings. Perfect iced without sweetener but also good hot if you're not feeling well.

I guess I don't like hibiscus, I don't taste any orange... just hibiscus.

Got this as a sample and loved it. The citrus flavors were perfect. I need to get more. Delicious tea

I'm very surprised to see so many sub-par reviews for this tea. I found it to be boldly tart and refreshing. There are some very bright notes in here, very good for a pick-me-up. I had this hot, but imagine it would be wonderful over ice too.

I was expecting more orange in my orange tea. It's not bad, just a bit weak for my tastes.

KK

Good, but VERY orangey!! Maybe will try next time with a slightly shorter brewing time, and will try a second steep also. I like, but just a little strong for me.

VERY strong scent is almost off putting, but surprisingly good.

Nice orange taste. I have been mixing this with some of my green teas.

Wonderful flavor. Not too tart, which I have experienced with some bagged orange teas. This tastes fresh. I steeped this for 7.5 minutes and put a touch of stevia in it.

AW

If you really like citrus teas then you might enjoy this, but I found myself wishing the flavor was more complex or sweeter--both cold and hot.

This is a good herbal blend. It's very tangy and would probably be excellent iced and blended with other flavor. I'll probably experiment with it in some blends.

The only taste is orange, so it's a bit like drinking orange juice. I wouldn't recommend it hot because it is like drinking hot orange juice. I think I prefer orange as an accent flavor in tea instead of the main flavor.

I usually dont drink citrus tea but this one is exceptional!!!

while its definitely better iced, it's a very orange-y fruity tea.

A tart, citrusy tea that gives a lot of that good orange flavor. Great for both drinking and culinary use.

I've tried this both hot and iced and it was really nice both ways! I enjoyed it just the way it is, but when my dad tried it he liked it with 2 teaspoons of agave sweetener.

MJ

Just takes like essence of orange! It's a really pure flavor and I appreciate that a lot.

This tea is wonderful. It is flavorful and makes a great iced tea.

I really like that this tea is flavorful but not sour.

The name delivers on this one. Intense blood orange flavor, really zippy and tart

Very bold citrus flavor. One of my favorites!

Love a good citrus tea! Very bold flavor with this one!

Not my favorite. I will try to add other flavors into it to make it better.

Strong and zesty. If you don't like very bold teas, this one may not be for you, but it's great for me!

Good flavour. I really enjoyed this tea. Might order again.

Good citrus flavor. Deep rich color. Definitely a favorite.

Delicious herbal tea with a nice blood orange flavor. It mixes well with other fruity teas as well. I always have some of this around. It makes for the perfect iced tea!

On of my favorite teas of all time, the blood orange flavor really shines through with this one

KK

A little weak on flavor, I was kinda disappointed. Also, the ingredients swell quite a bit when they reconstitute in water, so using a single cup infuser gets crowded. Not really a problem, just a heads up.

The hot version is too bitter, you really need to cold brew this one.

I admit that I haven't tried this hot yet, but that's only because I love the iced tea version so much! It's our summer staple in our house!

LL

This has a very good flavor of citrus yet sweet. One of our favorites! I couldn't get 5 stars when I rated. It quit at 4.5 but it is a 5.

Not my favorite, though not bad. The orange flavoring overpowers the real orange

Sweet, tangy, and rich without being sour, bitter, or pungent. This tea is perfect for a succulent, caffeine-free evening or ideal for icing and sipping during the summer. As a bonus, it also makes a great Halloween tea due to its name and color! If you're a fan of fruit teas, put this one on your list right away.

I'm a huge blood orange fan and this tea does not disappoint. I've even mixed it with some chocolate tea from Adagio and it tasted like a Terry's Orange milk chocolate.

Very nice smell and great red color when brewed. I got it mostly to mix with chocolate tea and it did not disappoint.