by adagio teas



(25 reviews)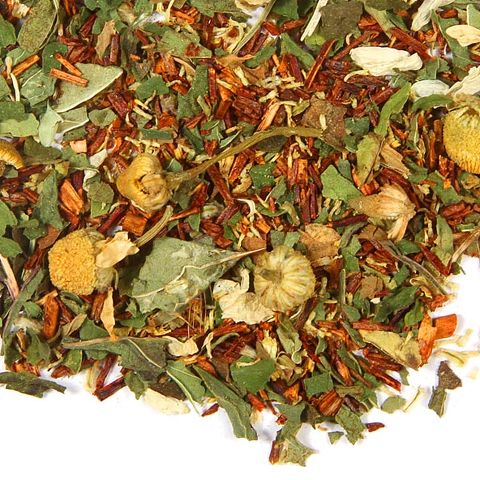 Like the dance that inspired its name, our Foxtrot tea is an overnight success that will leave you giddy with joy. It is an herbal cocktail of Egyptian chamomile, South African rooibos (with a touch of vanilla) and fresh peppermint. A soothing blend of familiar tastes that produces a pleasantly original combination. It's entirely caffeine-free, but you'll still have a spring in your step from the delightful, delicately clean and sweet flavor. Steep at 212°F for 5-10 minutes
Recent reviews
Got this tea as a sample and loved it. The peppermint and chamomile are always some of my favorites. This is a perfect herbal tea. Will definitely be getting again

A good healthy tea. I'm not usually a fan of echinacea but this masks it well.

Heavily chamomile, if you like that sort of thing. I do not. I would like to have more mint come through.

Brewed 8 minutes at 212F with sourwood honey added

I purchased this tea for my husband. I think the tea smells super strong with an eyewatering quality. He rather likes the scent likening it to Christmas. As far as the taste is concerned he simply described it as interesting and relaxing.

Disclaimer: I do not drink this type of tea. Therefore, the star rating itself is from my husband.

JS

Great tea and a great value! Such a relaxing way to enjoy a good cup of tea.

RJ

LOVE this one! This is my go to whenever I have a sore throat or just when I want something light. It also has a great soothing quality to it.

really lovely tea to sip in the evenings! also tastes good iced

Fine herbal tea. Not a really big fan since it contains peppermint.

If you like herbal teas then give this one a try. It has a prominent mint flavour with a kick of chamomile and rooibos.

Fun and simple herbal tea. Nothing innovative, but delicious none the less.

JF

Roommate shared this tea, one of the best I've had.

One of my go to teas for evening reading. It smells delicious and is great sweetened or unsweetened depending on your mood.

MJ

Mild and mellow. The blend of peppermint with vanilla and chamomile is delicately and expertly done. Highly enjoyable and perfect for any time of the day.

I love how smooth and slightly sweet Foxtrot is. This is so enjoyable in the late afternoon or early evening. The smell is heavenly too!

A decent blend. As others stated the chamomile can overpower the other flavors, however, its a nice tea to have any time of day. Sometimes I enjoy this on lazy mornings or rainy days. Its very calming.

The chamomile was a little stronger than I would have liked, compared to the other flavors. Still a perfectly nice tea.

I love to have a hot cup of this just before bed. The peppermint and camomile go together perfectly for a nice soothing tea.

This was a blend I was not sure if I'd like, just from the description - kind of a mix of things I wouldn't expect to go together. But they do! Not a love, but a solid like. 👍🏻

FR

Normally, I'm a black tea drinker and, when I drink herbals, I steer clear of the blends with roobios. However, the chamomile and peppermint play well with the vanilla of this blend that I don't mind the roobios. Plus I find myself drinking this during times I'd go for the black tea instead. It's been a great tea to help me reduce my caffeine intake.

The camomile in this make it taste slightly of feet to me, unfortunately. Not my favorite advent calendar tea.

By far, hands down, my favorite tea blend ever made. I've been drinking Foxtrot for 15 years and the taste has remained consistent and delicious throughout. I cannot even begin to express how much I love this blend. Its delicious and an incredible balance of flavors. Foxtrot, for me, is Adagio's signature blend

EB

A really excellent herbal tea with complex flavors. I just love it. Makes an excellent iced tea too.

This is my absolute favorite herbal tea. It's like the grown up cousin of a competitor nighttime tea. The blend is superb and is a great way to settle down for the night.

Absolutely a favorite for my 'relaxing' teas. It's not strong enough to be a bedtime tea, but it also has a lot of other flavors going on rather than just the lightly sweet grassiness of chamomile or the bitter astringency of valerian. Something to enjoy while wearing a facemask and reading before bed.