by adagio teas



(36 reviews)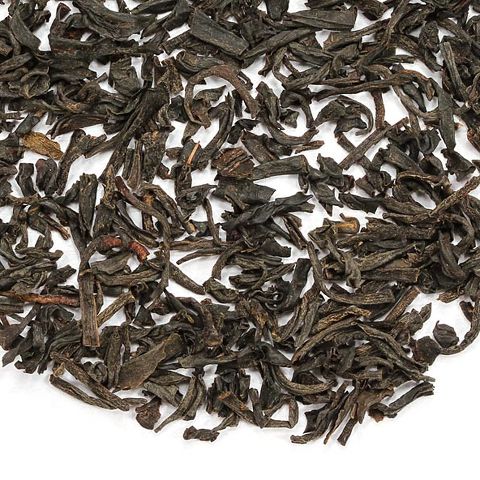 English Breakfast is a full-bodied black tea blend that goes well with a traditional English Breakfast. The original cup was made with black Keemun tea from Anhui province in China. Across many generations, plenty of different interpretations of this famous blend have been made. Our English Breakfast stays close to the classic. Made from top quality black Keemun tea, prized for its rich, slightly smoky flavor and perfectly 'on point' astringency. Balanced, very honeyed aroma. May be enjoyed plain or with a drop of milk. This fine example of English Breakfast remains one of Adagio's most popular varieties. Steep at 212°F for 3-5 minutes
Recent reviews
AD

Perfect morning cup. Not too astringent good full flavor. Perfect with a bit of cream

HB

Still our favorite - strong, bold but not bitter, even if it brews awhile…stays good through breakfast and reading of the New York Times.

Listen, Twinnings' English Breakfast will always be my first love. However, this tea is on a whole 'nother level in terms of flavor.

Another really good black tea! Like the Scottish breakfast tea, it is best with a splash of whole milk. This one is a bit lighter and brighter in character. I prefer the Scottish tea, but the english is a good substitute.

You can't go wrong with an English breakfast tea. Theirs is very good. I enjoyed mine with some rock sugar and a little cream.

You really can't go wrong with this. It's your basic tea we all grew up with only better. It's strong but not too strong. As with all black teas I under brew careful to not make it too bitter. I enjoy some sugar and creamer with it.

Solid breakfast tea. If you're looking for a classic black tea, this is it.

BL

This was a great English Breakfast, I enjoy it very much, and will be re ordering it.

This tea was pungent, with notes of chocolate, then some bitterness that was followed by more chocolate. It wasn't astringent but I didn't care for the bitterness coupled with the pungency of the tea.

SG

A basic English breakfast, nothing special but it's good

A classic, nice and balanced. Not much to say about it beyond it's a good wake up tea, simple enough to drink without thinking but not cheap and low quality.

EC

This tea smells like roses! The flavor is pretty unique -- floral and malty at the same time if that makes sense. I wouldn't find myself craving this (especially not as much as an Earl Grey tea, which I love) but I could drink this more than occasionally!

I don't think I have ever had the opportunity to drink a nice loose-leaf English Breakfast. I've always had the cheap version in the bags. I really did enjoy this one overall!

The leaves look to be of nice quality. As far a s the flavor, this is your typical English Breakfast tea. It is fairly smooth, but I did have to add some rock sugar in this to combat the bitterness from the tannins. If I ever purchase this, I will likely add some sort of dairy/non-dairy product to this to make a builder's brew.

CK

I didn't think I was an English Breakfast fan until I tried this one! It's smooth, sweet, and complex in a way the other English Breakfasts I've tried (all bagged to boot) simply aren't.

I love starting the morning with this one. It's smooth and rich without being too bold. I usually drink it straight, but it is just delightful when you add a bit of cream and sugar.

Strong! I was jittery all day after this one. The flavor is good, almost like a malted tea. I understand why this one is so popular but it just isn't for me.

Such a good, rich black tea! I didn't get any astringency, but that could be because I sweeten my teas anyway - though this tea didn't really need much sweetening. I did get a lovely malty flavor, not so much chocolate notes. I easily managed 2 good steeps from this.

Steeped (1) 200F 4min, (2) 212F 4.5min

This is a nice alternative to coffee in the morning or a good evening cup. Its not too overwhelming but strong enough to be effective.

Malty rich flavors were notes with the addition of cream and sugar. I think the queen would approve!

Better than Irish breakfast, nor as good as Scottish breakfast, IMO.

In fairness I'm American so if you're English at all don't trust my 5-star review.

For a yank, it's the best English Breakfast I've had. Full-bodied without any bitterness (and I steep for longer than I think is legal in most counties in the UK); it has entirely replaced coffee for me.

Very delicious. Would drink again.

MJ

My least favorite of the three british breakfast teas (scottish, irish, english). Solid but has less of the bitterness I seek out in these sort of teas. Although, it definitely had a strong mineral taste and bold flavor.

Very good! An excellent, inoffensive, and highly effective tea. I do prefer their Irish Breakfast tea for it's slightly more mineral taste, but this is one I always have on hand!

This is a great standard English breakfast tea - perfect for those mornings when simplicity is needed!

This is a great breakfast tea...i love regular breakfast teas like this

A classic, very nice with some office cookies. I'll have to get more soon!

A classic! My dad loves this one - he even asked me where I got it so he could order more.

Literally can't go wrong with a classic like this one!

This is a delicious black tea with a well balanced flavor. A favorite.

A worthwhile tea with excellent notes of cocoa that's a great treat to start the day. It's 100% Keemun, which is my favorite.

One of my favorites. A smooth finish with just a slight smoky note. It reminds me of my childhood in the UK.

JW

A very solid English Breakfast. It's a little weaker than Adagio's Irish Breakfast, but it's by no means a lesser tea. Great taste for any time of day. Now, I do notice some clouds of something at the bottom of the pot when I brew this: it's from the tea and not bad.