by adagio teas



(33 reviews)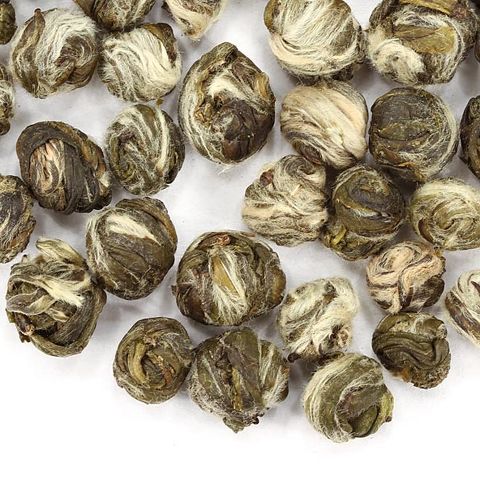 Jasmine Phoenix Pearls
are perfumy, hand-rolled jewels of tea from Fuding, in Fujian province, China. Any fan of jasmine tea should try this specially crafted wonder. When added to hot water,
Jasmine Phoenix Pearls
majestically unfurl, releasing their delicate scent and flavor. Also known as 'Jasmine Dragon Pearls', their liquor is sweet and almost sugary. Very soft, airy mouthfeel. The delicate quality of the flavor is due in part to the leaves used to produce this tea: two tender, tiny new leaves and one plump unopened leaf bud. Younger leaves will yield softer flavor. Steep at 195°F for 2-3 minutes
Recent reviews
Sweet, pillowy, and fragrant. I love watching the pearls unfurl!

The most floral jasmine tea that I've ever tried, its like drinking a bouquet.

To me this is one of the better green teas. It had a good floral taste and smell. Mixes good with peppermint for a twist on a Morroccan Tea.

This was a nice green tea. I really like the jasmine.

one of my absolute favorites! i keep this on hand always for a delicate cup of floral bliss

JM

fragrant, calming and soothing. not very strong but a fine delicate tea for those quiet times

It's a very smooth cup I'll give it that but god it's so floral that it tastes like perfume and I just can not drink it

Amazing tea. Very fragrant and pleasant. I love the jasmine scent added to the tea. So delicate

I bought these as a gift for a friend and she loved them!

My favorite jasmine tea i've tried. Delicious soft taste great with a small amount of honey.

Not for me; this tea was in a sample pack and I took a few sips and although it came across as smooth, I did not like the flavor enough to finish it. It's all about personal taste, I'm sure others may love it. I think that 'perfumy' might be one adjective to describe it, unpleasant in my mouth or somehow between my mouth and my nose.

Really nice jasmine green, wonderful fragrance, nice semi-sweet flavor. I love this cup.

Excellent jasmine green tea. I love how the pearls unfurl in the steeper. I have to be in the mood for a floral tea but I find this to be very relaxing.

I know most other people love these pearls, but I can't get behind them. The flavor is almost medicinal and no matter how pretty they are steeping, that can't get rid of the taste.

JP

I enjoyed this tea. I got this in my green tea sampler pack. This was not my favorite out of the bunch but it was still good

It's really fun to watch the tea brewing. Great flavor also

This is an awesome tea with a great flavor, and I love watching the pearls unfurl!

My favorite Green tea of all time. It's amazing on its own with a little honey, or mixed with another tea like Honeybush Vanilla to add a little different flavour to the profile. I love that a little goes along way with this tea, and i can reuse the leaves for 2 or 3 cups.

Top notch jasmine pearls. Excellent flavor hot or iced.

Wonderful jasmine tea, it has a very strong aroma but the flavor is comparatively light and delicate

Simply phenomenal. Very aromatic with a light, floral taste. If you're only steeping it once, you're missing out; the flavor gets more complex with the second and third infusions.

I love this tea so much!!! I really enjoyed it shot

These pearls were delightfully aromatic, with a soft flavor to the actual tea. One of my favorite Jasmine tea experiences

I'd never tried jasmine pearls before Adagio - I got a sample in my Advent calendar last Christmas, and I loved it! Ordered my own standalone box of it. 🙌🏻

I love this tea, it's well worth the price and a lovely gift for anyone who enjoys jasmine.

TA

Very good Jasmine tea. I love the strong Jasmine flavor

I personally don't drink this tea, but my mother loves it so much she's requested more of it.

Absolutely loved this tea. I am not great at describing flavor but it didn't taste bitter or strongly of any type of plant like the green Gunpowder. It is a nice subtle flavor and an excellent compliment to flavored biscuits.

This was a gift from a student. ABSOLUTELY my go-to special occasion tea.

This is my favorite green tea. I love the delicate taste of these dragon pearls. It is a must try if you are a tea junkie

AP

I just tried this green tea for the first time, and I love it! I think its my new favorite green tea that I have tried from Adagio. It tastes best very hot, if you can handle it. The pearls smells very fresh and herbal, kind of like grass.