by adagio teas



(26 reviews)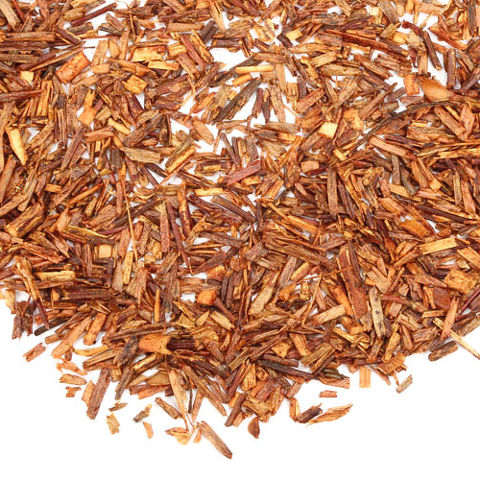 Our Rooibos Vanilla combines the rich and warm dark sugar aroma of vanilla with mellow and grounding Rooibos herb from South Africa. Soothing, sweet and very 'beany' vanilla fragrance (like warm sugar cookies made with fresh vanilla beans). Naturally caffeine free! Steep at 212°F for 5 minutes
Recent reviews
This kind of has that whole Rooibos = cough syrup thing going on but it's offset a bit by the vanilla. Not terrible.

I've got some love hate relationship with rooibos teas. This ones fine for what it is.

I like green rooibos but not red rooibos as in this case. The vanilla which I normally love does nothing to make this tea enjoyable.

It smells strongly of cough syrup when brewed but tastes nothing like how it smells. It is a great bedtime tea and tastes best after it has cooled for a bit.

This is ok as is but I don't think I would choose to drink it alone. This is a little creamier than a straight rooibos, but not much.

Brewed at 212F for 5min

It's ok by itself it really needs to be mixed with other flavors to taste good

Good for a blend, but alone this tea falls flat for me.

A good vanilla flavor without overwhelming tea in the background. Definitely needs sugar but little else.

CB

This is my favorite tea. It is a little sweet and the vanilla plays well with the rooibos taste.

I think this one would be good blending with other flavors but was sort of missing something for me on it's own.

JD

I love adding this tea to fruity teas or strong black teas. The vanilla flavor is subtle, but it adds another level to the overall flavor profile when added to other teas. I've found it to be quite robust and can steep in at any temperature/time combination that other teas require.

This one is just middle of the road for me unfortunately. I love vanilla but I'm not a fan of rooibos but I have found that if I cold steep it it is ok. The problem is the vanilla. I really want that creamy rich vanilla taste

The vanilla flavor in this comes through really well.

I love that this tea does not contain caffeine so I can enjoy it anytime I want. However the added flavor is somehow artificial

Just go for standard vanilla or a blend. The other reviews are right. There is something so artificial or chemical-y about this tea.

I did not like this tea. It tasted very artificial

I love rooibos but the flavor tastes like chemical. I'd rather have it plain

This smells like delicious vanilla sugar cookies in the bag, but I found the vanilla flavor to be a little more faint that I had expected once brewed. I primarily like using this to mix into other blends.

KK

Another amazing tea in my first shipment with the club. I would not have purposely ordered this on my own, but it is now my favorite dessert tea! It even told Chai! Thank you Adagio for introducing us. I think it will be a beautiful relationship!

I love the rooibos taste, but the vanilla flavoring tastes very artificial.

SH

Awesome tea! Am a huge tea fan! Love herbal, counts as water intake.

Thought the flavor was pretty artificial, not a fan. Might be good for mixing into other teas though.

love the vanilla notes on this one...will buy again

When I first started drinking tea, vanilla tea was exclusively what I drank. Although I've branched away from that, it's nice to go back to a staple occasionally. This is a good vanilla tea, without being basic.