by adagio teas



(27 reviews)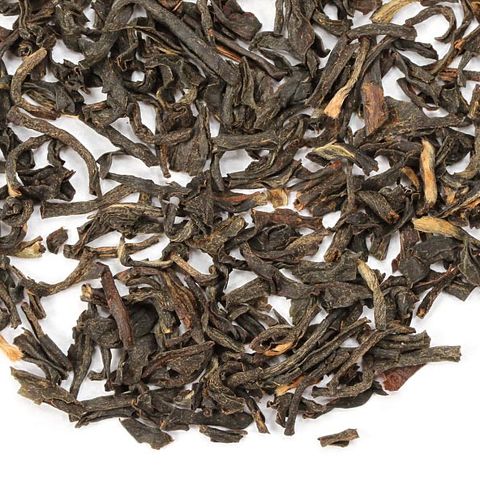 Bold black tea from the Assam region of India. Assam tea is known for a deep, burgundy-red cup and pungent flavor. Our
Assam Melody
is perfect for tea drinkers who may be new to the powerful character of Assam. Rich aroma, more sweet starchy than malty, like roasted plantains. Rounded mouthfeel, malty without being overpowering. Slight notes of raisin. Brisk astringency and not extremely pungent. A solid, 'friendly' Assam, from the well-regarded Meleng Estate. Steep at 212°F for 3-5 minutes
Recent reviews
i love this one. i was surprised when my picky husband said he liked it.

assam teas have a lovely mellow flavor. ty Adagio for this treat

This was a really good black tea. It was dark and had a nice body.

Assam Melody is a wonderful black tea. Robust. Definitely good when you're looking for a breakfast tea.

I had really high hopes for this one, but turned out I don't like it as much as the Yunnan blacks.

simple straightforward black tea, nothing to write home about.

Not my favorite black tea, most of the times I've made it it's ended up weak unless I add a ton more leaves than I feel should be needed. When I can get some flavor it's decent but not the best out there.

This is a solid black tea. I found, however, that I like it even better mixed with Keemun Concerto, which was inspired by Brigadoon Breakfast, which I can't get right now!

AG

This is one of the best black teas I've ever tasted. It has a wonderful rich flavor.

I love Assam Melody and I recently used it in a blend that turned out very nice.

Excellent black tea that is strong but not bitter.

One of my fav black tea. Strong flavor. I love it with milk

Very rich and smooth. Great substitute for coffee in the morning

A rich, strong tea that I drink just about every morning with milk and sugar to start my day and get my eyes open! I'm guilty of stepping it at least 10 minutes or more!

Very good basic black tea, nothing I would change about it. But its fun to make lattes with.

I love this as a strong malty breakfast tea. Stands up to cream and is a really comforting cup to start the day.

MJ

Interesting flavor. A bit too strong compared to what I usually drink but honestly, I fully enjoyed it. Who can say no to a good black tea?

Great tea for those of us that like a strong full bodied tea. When supermarket brands are weak for you, this is what you are looking for.

Dark, bold and tastes great. I enjoy it with milk!

This tea is another nice black tea I like it alot

Full-bodied and slightly mineral. An excellent blend that can hold up to any additions. Great for mornings or an afternoon pick-me-up!

LB

This is a very thick full-body tea. I usually like my black tea to be super dark but not so much with this one. It would be a great afternoon 'pick me up' tea or to go with a late-night study session. When I make it again I am adding vanilla to go with the smokey professor's study smell/flavor that it has.

There's just something about this blend - from the earthy, hay smell of the leaves, to just that warmth you get from the flavor. It's undeniably comforting.

A classic! One of my dad's favorites. It's a bit too dark for me, but still very enjoyable.

It's the perfect tea when you need a pick me up that tastes great!