by adagio teas



(21 reviews)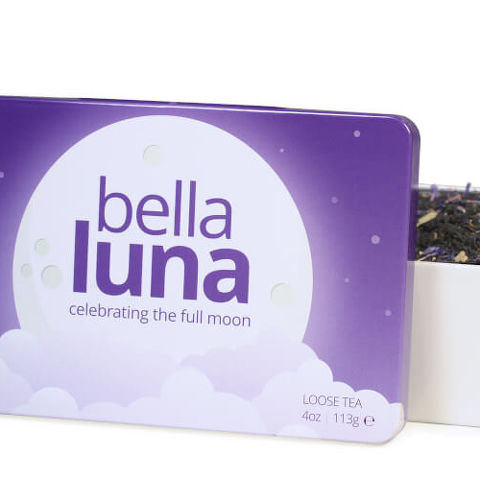 Earl Grey Bella Luna
brings the light of the full moon to your cup. Robust Earl Grey shines with familiar bergamot notes, highlighted by a soft glow of coconut and cream. Rich, bright, and well-rounded, this tea is not to be missed... but it only rises once a month, so don't miss out! Steep at 212°F for 3-5 minutes
Recent reviews
I love how the earl grey blends with the coconut. It's creamy and smooth

Never was a fan of Earl Grey until this tea! I love the hints of coconut, its what makes it truly a good cuppa.

I enjoyed it. Typically, I'm not much of an Earl Grey fan (shocking I know!) But I HAD to have this since it only is sold on the full moon. Even though I rarely enjoy a nice Earl Grey, this one was interesting. The coconut and cream almost made it taste like a coconut cake. Very smooth. Now when I crave a nice cup of earl grey (with enough milk and sugar to be considered a latte) I always reach for this!

This is such a treat when it comes around each month!

A subtly sweet black tea to be sure - I love the coconut here. I've enjoyed a few cups of this already, and looking forward to more. I may try it with a bit of almond or coconut milk next time.

Very bold and too much of a floral taste for me. Not sure what I can do with it to make it more palatable.

TR

One of my favorite teas thus far - I keep this in stock in my tea cabinet and drink a cup almost every morning!

Delicious, with a bold but smooth flavor profile that makes a lovely cup of tea or latte and serves as an excellent pick-me-up late morning or early afternoon

SK

Bought both Bella Lunas when they were available. Both are a unique flavor and color.

Legitimately one of my very favorite teas; I buy it in bulk. The cream a coconut balance the bergamot perfectly without loosing either one.

I find it very good with coconut oil! I love the flavour!

Full disclosure, I don't like coconut and I'm not a big fan of Earl Grey either. My mom wanted to try this one though and so I had some. The coconut isn't overpowering, which is good. You for sure have to like Earl Grey though, haha. If you do, this would certainly be your cup of tea - pun intended. The flavor was on point, and the balance was there.

This one is quite nice as i am a fan of both coconut and earl grey. Just don't let it steep too long! I think its a good once in a blue moon purchase if you want to try something a little different. 212 degrees for 3 minutes with some milk and sugar and you are good to go!

This tea is one of my least favorite teas. It has a strong flavor of something (can't quite decide what it is) that I am not fond of. I can drink one cup (very weak) but that is about it. I need to figure out how I can blend it with another loose tea so I don't waste it. I kind of feel like I am drinking a flower...just too strong for my liking.

This is one of the best teas that I have ever tasted! It is a wonderful early grey tea!

This is good, but I don't get much of the coconut. It tastes to me a lot like the Earl Grey Moonlight, which is not a bad thing.

Didn't taste much of the coconut, you're better off with Earl Gray Moonlight for the same taste

It's a nice tea but a bit too "floral" for my tastes. I definitely would not recommend it if you've never tried an earl grey before.

very good tea didn't have quiet the flavor I was looking for but still wonderful. probably wont order again just because i'm in love with the lavender earl grey.

This is my favorite Adagio Tea that I have tried so far. It is delicious, comforting, and awakening. I finally remembered to order again on the full moon today, and can't wait to receive more!