by adagio teas



(67 reviews)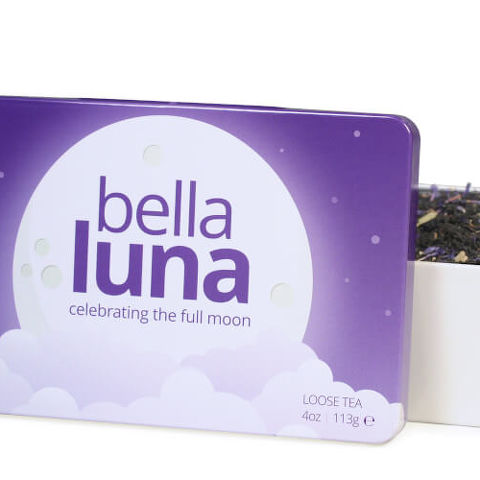 Earl Grey Bella Luna brings the light of the full moon to your cup. Robust Earl Grey shines with familiar bergamot notes, highlighted by a soft glow of coconut and cream. Rich, bright, and well-rounded, this tea is not to be missed... but it only rises once a month, so don't miss out! Steep at 212°F for 3-5 minutes
Recent reviews
KW

I wanted to love this because it is such a beautiful tea but I was not a huge fan of the lemongrass in this one. After reading another review, I noticed I might have been missing some coconut pieces in my CommuniTEA packet as well so I will increase my stars on that reguard. It would be worth another thy.

The coconut and cream flavors really elevate this Earl Grey.

CK

This is one of my favorite adagio teas, I wish it was more readily available! In the bag, smells like lemongrass and blueberries. Once brewed, it's mostly just lemongrass. but it's blue! This is a fun, simple, delicious tea! I tried it with the green rooibos blueberry to ghee more of the blueberry flavor out and it was also delicious. Try it when you can!!

Tried this with vanilla soy milk. Found the coconut quite nice. Full bodied and round flavor.

The smell that comes off of it when you first open is is really pleasant. Has a tinge of coconut but reminds me of a cookie when you taste it, and it's one of the teas I can drink with or without milk. I'd recommend ordering the big version so you have lots to stock up on, it's one of those teas that have you drinking it every other night

CB

Another Earl Grey favorite. Suggest you order a 16 oz if you like it because it is not always available when you might want to order. A bit sweeter than some other Earl Greys, but is quite unique. Never bitter, not too strong with complex fruit and vanilla notes to complement the bergamot.

It's an OK Earl grey, but not as great as I had hoped. The smell is good, flavor is OK.

I'm not an Earl grey fan but I keep hoping that I will be. When this one came out with coconut and vanilla I figured I would try it. Although adding cream and sugar smooths it out, it's just ok to me. I do love the tin it came in and the gimmick of buying it only once a month, my search for loving earl grey goes on.

It's a good earl grey, the coconut flavor is nice light and different. I does need some sweetener for my liking

Mild earl grey flavor, big on coconut notes. Improves with cream and sugar, but I prefer the other Adagio earl grey blends more.

CK

I'm not a huge fan of coconut but it doesn't have much of a presence in this blend. Points deducted because I know it should.

JP

I am not a big fan of Earl Grey but this is one of the better ones though

Earl Grey with coconut which I absolutly love with a little sweetener and milk :)

CK

I love the flavor of this tea. It pairs well with milk.

AF

A nice, softer Earl gray, with some lovely coconut flavor.

MA

Bell Luna tea is delicious. A quality Earl Grey tea accented with coconut & creme.

This is a fantastic earl grey, one of my favorites. It's smooth and complex, with all of the components taking a turn to jump out at you. Absolutely delicious.

Smooth black tea taste. A little coconut initially, but overwhelming bergamot. Added honey, but then the coconut disappeared and the tanginess of the citrus became prominent.

My first impression of this tea came from a CommuniTea packet (11/30), so even though I am reviewing it, I don't think I really got a full grasp on it's potential as my packet was lacking coconut pieces.

I wasn't able to discern any distinct coconut flavor. There was also more fanning dust in this packet than I've seen in other recent packets, so I'm suspecting mine was a bit bottom of the barrel.

Besides that, the actual Earl Grey flavor was very nice. I am having fun with my newfound interest in earl Grey teas (I used to hate them, but that was when my only experiences was store-bought bags).

While I didn't get the best sample, it has still peaked my interest, so I'll probably come back to this again in future.

1st steep: 4min at 190F / 2nd steep: 5min at 200F

Absoluetly delicious, or "bellisimo" would be a better word. Smooth, full bodied, and well blended, this was a wonderful tea to enjoy on a full moon.

It's not my favorite earl grey, but it is still pretty nice. The coconut is very prevalent.

again true confessions- was thrilled to try this - and thanksAdagio... neat idea - full moon and blue moons too

This is my favorite tea for everyday sipping. The coconut adds a mellow flavor to the earl grey, which makes for a relaxing cup.

TA

the coconut took me by surpise, as I'm not a fan of coconut. If you like coconut you'd probably enjoy this

I was a little apprehensive, but the coconut and bergamot play surprisingly well together. Just don't steep for longer than 3 minutes or it'll become horribly bitter.

High caffeine to keep you away by the light of the pale full moon, or as a morning tea! A full moon special available only once a month, so check your astrological charts. floral and sweet with coconut, but a little bitter on the end. I like it best with a hint of milk and honey, or as a Latte.

Not usually an earl grey fan, but the addition of coconut and cream really makes this! Its a little difficult to buy since its only available one day a month but its worth it!

JI

This tea is amazing!! I'm in love with it and definitely makes my morning

JC

Love this tea! It makes my morning to sit down and enjoy the first slip to the last.

Good earl grey. Gets a bit bitter if you oversteep even a little. I do not taste the coconuts in this batch.

I like earl greys, and this one is no exception. The coconut give it a slight twist, and it is a nice blend.

JD

Great tea for anyone who likes earl grey but is looking for a slight level of sweetness in their tea.

In general earl grey is not my favorite tea, however adagio's marketing for this particular earl grey snagged my attention and my wallet. After my first cup, I'm happy to say that it's probably the best earl grey I've had. It had hints of sweetness with a slightly astringent aftertaste. I added sugar to mine, and it was very good. Looking forward to trying it in other ways recommended by reviewers.

This is a delicious tea. I don't taste much of earl grey and the orange on it. I really taste the almost creamy coconut dominant flavor. Delicious.

AW

This is a solid earl grey, although I found the coconut flavor (while it made the cup sweeter and smoother) a bit strong for my taste--will probably regift this!

This one is a winner! Earl Gray with a bit of something extra. They only sell it on the full moon though so plan ahead.

AG

I love this tea! It has a wonderful Earl Grey flavor that is subtle, and the reusability of the tin is a plus.

Very coconuty,. Creamy and plesant. Such a great earl grey

MW

This tea is worth the wait and the effort to not miss the next full moon. It makes the best london fogs I have EVER had.

I absolutely loved this tea and I wasn't expecting too. Coconut is one of my favorite flavors but the floral I wasn't sure it. It blends soooo well. Yum

This tea is top notch! It's one of my favorite Earl Greys. Smooth and delicious!

I'm not the biggest fan of coconut, so the fact that I'm head-over-heels for this tea is a statement (good thing it's a monthly release instead of an annual one!). The bergamot, coconut, black tea, and creme blend together seamlessly with no one flavor overpowering the others. Thoroughly romantic (in the genre use of the word), it will wake you up at the first pinprick of dawn as color fills the sky, or keep you company when the midnight moon hangs in a star-dusted canopy of ebony. Earl Grey fans shouldn't miss it.

delicious coconut twist on the classic earl grey. Can't get enough!

Everything about this tea is beautiful and relaxing

This is one of my absolute favorite teas. The coconut flavor is incredibly delicious mixed with the Earl grey tea.

This has a very strong and bright bergamot flavor, with a more subtle undertone of coconut and sweet cream to balance it out. Great any time of the day.

JP

I always have Earl Grey on hand because it's the only tea my parents drink. I changed it up on them the last time they visited with this tea, and it was great to have a little different flavor. I enjoyed the coconut twist and will repurchase.

It's alright. I'm not sure what is lacking but i feel like something is missing from this tea. I've tried it on its own, doctored up with honey and milk, and vanilla syrups ect...but it just isn't an Earl Grey that I seem to enjoy...and I love Earl Grey teas overall.

I love how the earl grey blends with the coconut. It's creamy and smooth

Never was a fan of Earl Grey until this tea! I love the hints of coconut, its what makes it truly a good cuppa.

I enjoyed it. Typically, I'm not much of an Earl Grey fan (shocking I know!) But I HAD to have this since it only is sold on the full moon. Even though I rarely enjoy a nice Earl Grey, this one was interesting. The coconut and cream almost made it taste like a coconut cake. Very smooth. Now when I crave a nice cup of earl grey (with enough milk and sugar to be considered a latte) I always reach for this!

This is such a treat when it comes around each month!

A subtly sweet black tea to be sure - I love the coconut here. I've enjoyed a few cups of this already, and looking forward to more. I may try it with a bit of almond or coconut milk next time.

Very bold and too much of a floral taste for me. Not sure what I can do with it to make it more palatable.

TR

One of my favorite teas thus far - I keep this in stock in my tea cabinet and drink a cup almost every morning!

Delicious, with a bold but smooth flavor profile that makes a lovely cup of tea or latte and serves as an excellent pick-me-up late morning or early afternoon

SK

Bought both Bella Lunas when they were available. Both are a unique flavor and color.

Legitimately one of my very favorite teas; I buy it in bulk. The cream a coconut balance the bergamot perfectly without loosing either one.

I find it very good with coconut oil! I love the flavour!

This one is quite nice as i am a fan of both coconut and earl grey. Just don't let it steep too long! I think its a good once in a blue moon purchase if you want to try something a little different. 212 degrees for 3 minutes with some milk and sugar and you are good to go!

This tea is one of my least favorite teas. It has a strong flavor of something (can't quite decide what it is) that I am not fond of. I can drink one cup (very weak) but that is about it. I need to figure out how I can blend it with another loose tea so I don't waste it. I kind of feel like I am drinking a flower...just too strong for my liking.

This is good, but I don't get much of the coconut. It tastes to me a lot like the Earl Grey Moonlight, which is not a bad thing.

Didn't taste much of the coconut, you're better off with Earl Gray Moonlight for the same taste

It's a nice tea but a bit too "floral" for my tastes. I definitely would not recommend it if you've never tried an earl grey before.

very good tea didn't have quiet the flavor I was looking for but still wonderful. probably wont order again just because i'm in love with the lavender earl grey.

This is my favorite Adagio Tea that I have tried so far. It is delicious, comforting, and awakening. I finally remembered to order again on the full moon today, and can't wait to receive more!