by adagio teas



(75 reviews)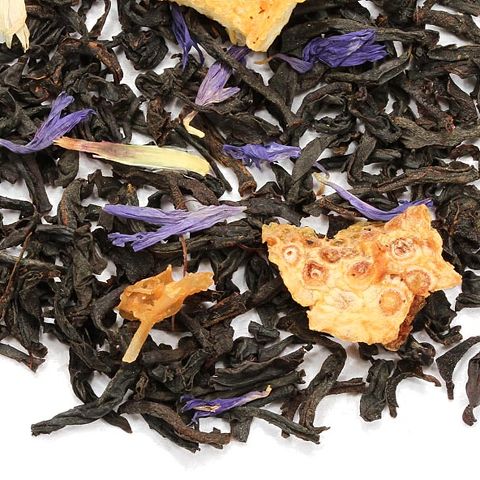 By popular demand, we created this Earl Grey 'cream' blend. Comforting flavors of vanilla and cream combine to soften the citrus notes of traditional Earl Grey. Your taste buds will swoon at first sip of our Earl Grey Moonlight. Steep at 212°F for 3-5 minutes
Recent reviews
TR

This was a bit strong for my taste, but ultimately was serviceable. I'd probably recommend anyone who generally likes Earl Grey teas to give it a try, though I probably won't be seeking it out again in the future

This tea has to be one of my most favourite Earl Greys of all time, the perfect amount of bergamot causes my floral-loving taste buds to sing without it being overpowering. This tea is the opposite of dull, and the creamy notes of it are wonderful.

IMHO Consistently Adagio's best soft Early Grey that outshines Bravo as well as Bella Luna. Bests Harney's Earl Grey Supreme by a mile. A fuller body than most with creamy undertones and Bergamot that balances the blend. Its my go to Earl Grey

best earl grey ive ever had. love the creamy flavor and the vanilla in it. tastes like milk tea! i like it iced with sweetener

A creamy Earl Grey. It's interesting and tasty. I need to start drinking it early because of the caffeine and the fact I can't do just one cup of this tasty nectar.

This is the blend that finally won be over to Earl Grey tea! The cream and vanilla adds creaminess and tones down the brightness of the bergamot.

HF

It's like a creamier version of earl grey. Tastes great too.

I liked it my friend gave me a sampler. I use it as a base for my crepes. It good.

I really love this tea. I'm a fan of earl grey teas. This one was a perfect mix.

Smooth and slightly tangy! Excellent for an afternoon pick me up!

CB

Adagio's Earl Grey Moonlight is an excellent Earl Grey blend. I am an Earl Grey fan, but I like to try different blends. This one is mellow with a bit of sweetness. Pleasant with no after taste -- not bitter. Would recommend

My favorite of the Adagio earl greys. Earl grey creme meets citrusy Earl grey. Very nice combo.

this earl grey is fantastic. The vanilla flavoring is very reminiscent to mini marshmallows.

Adagio always hits it out of the park with their earl greys!

CY

This is one of our favorite staple teas. It has a lovely citrus aroma combined with black tea that I look forward to in the morning. This moonlight variety has an added "cream" flavor to help smooth it out. It's great to drink with breakfast or some pastries.

LF

I love an Earl Greay and this is no exception. One of my favorites!

I think I like this one more than the Earl Grey Bravo. The vanilla and creme flavors soften the bergamot and make it almost dessert-like.

Comforting creamy earl grey blend. Not overly strong in pungency or intensity.

I really wanted to like this tea, but I just don't feel like the vanilla and creme works well with the bergamot. Not a fan of this tea.

Lovely Earl Grey with hints of floral and creme which anyone who loves Earl Grey will be delighted to try and may convert others :)

One of my favorite teas, which is odd, as I am not typically an Earl Grey drinker. But there is something about adding the cornflower and cream to this that takes what is a somewhat astringent and boring tea, normally, and elevates it to the most sublime, perfumed, and rich tea. It has a very sweet cream scent, and the vanilla offsets the astringency of the team while softening the bergamot. All in all, a lovely mouthfeel, stunning scent (it should be a perfume), and very pleasant taste with no bitterness or astringency–just don't over-brew! 3 minutes with boiling water, no more.

JM

I enjoy the subtle vanilla flavor. Very nice with milk or a little cream. This is my new go-to Early Grey.

Sipping this by the moonlight as I woke up early today. The much needed caffeine is starting to kick in as I enjoy the lovely creamy vanilla flavor of this earl grey.

I had some nice chunks of orange peel in my CommuniTea packet, and a strong smell of bergamot. As someone who used to not like Earl Grey, I really enjoyed this slightly mellower Earl. I added some cream and sugar 0 with those additions the smell reminded me of froot loops :D - I may have over sugared a bit haha. Still tasted great. I'll definitely come back to this at a later date.

200F for 4min

So smooth and so creamy without adding any cream. Adagio has fantastic earl greys and this is no exception. I would give more stars if I could.

A smooth, mellow earl grey. I love how well everything works together, with no two elements overpowering the other.

Smooth tea. The vanilla and creme take the edge off the bergamot flavor.

This tea is great if you dont want to add any milk or sugar. Its lightly sweet and creamy on its own

One of my favs. Love to add a bit of lavender, makes the best cup of earl grey.

Not my favorite earl grey - kinda wish it had more bergamot. Still really yummy though, especially with milk.

i was once a NO EARL GREY FOR me person - adagio has converted me to be an earl grey lover

Decent, but not my favorite. I think it's too heavy on the bergamot, but it's really a personal taste question. The tea quality is good.

TA

This tea was SOOO good. I would recommend to anyone

CK

This tea is like cuddling up by a fire in the cold winter months; extremely cozy and satisfying. I only recently realized that my dislike of Earl Grey tea was due to subpar teabags, so this discovery was entirely better than I ever imagined it could be!

I like this earl grey better than the original earl grey bravo, but not as much as I like the full moon version. It's creamy, and made better with cream and sugar.

JI

This tea is too die for!. I really, really love!!!

CB

The vanilla adds a smoothness to temper the bergamot in this tea nicely. I like to blend it with a berry tea for a fruity London Fog.

I guess this tea is okay but just not my fav. I found the bergamot flavor too strong and fake

My new favorite fall tea! I add a splash of oatmilk and it is delicious!

Was excited for this one, but it fell short for me. Maybe I'm justvnot a very big Earl Grey fan. I found this overly-astringent.

AG

Best tea ever!! I need more than 5 stars. No matter what other teas I buy, I always have some of this on hand.

AW

This is a wonderfully sweet earl grey tea! I would recommend this both to newer earl grey drinkers and to those who already love earl greys!

Another lovely earl grey by adagio. One of my favorites for any day and any time.

This is such a nice early grey. The vanilla cream flavors really balance and mellow out the intense bergamot nicely. It also blends nicely with some of the berry flavored or other citrus black teas.

i'm a big big fan of this. tastes very creamy and reminds me of froot loops

CD

Anything with cream in it is my bestie. I'm all for the bite of Earl with the smoothness of vanilla and the rich buttery hit of cream. I like fatty, rich tastes so this satisfies my palette.

This was the first tea I ever added to my now fairly large collection. And it remains one of my favourite teas. It is absolutely lovely paired with a scone or cookie.

LD

This is without a doubt my favourite earl grey tea ever! It is so smooth, creamy and relaxing. Absolutely delightful.

Simply the best blend available! So smooth and creamy. Adagio is one of the only places that still uses cornflower petals in their E.G. Their customer service and shipping are great too!

I really enjoyed this earl grey, bur I feel like it would be enhanced by adding lavender

ZH

Love this tea. Tastes absolutely incredible and very flavorful. Also, is very calm for the heart, does not make you get heartbeat or sleepless even if you drink it late at night.

GS

My favorite earl grey. Earl Grey has always been one of my favorite, fragrant tea. However, in many blends the bergamot would upset my stomach. Not this one! The creamy notes and floral aspects might not be ideal to everyone, but for me they were perfect. Great tea!

This is my favorite tea to drink! Black tea can be really dark and harsh, but the cream definitely lightens the flavor. The lavender mixed in is the perfect combination for my morning commutes: caffeine to get the day started and lavender to make me feel calm.

This one is awesome because it's so smooth. It's like meditation in a cup. A very soft mouthfeel!

One of my favorite iced teas. I brew it overnight in the fridge for about 14 hours (I find a full 24 to produce a bitter tea). Full taste and mouthfeel, refreshing on a hot day.

I'm not fond of the corn flowers. Too floral for me.

KZ

I adore this tea. The cream flavor is smooth and delicious, but not overpowering, with lovely floral notes.

This tea is delicious all around, and is perfect for London Fog

One of my Favorite earl grey's, it makes an excellent London fog latte and is just as good iced (if not better).

A very floral blend with a sweet aftertaste! One of my favorite earl greys to date!

This is one of my favorite earl grey's! It's nice and creamy, with a good balance of lavender (which is one of my favorites)!

I could personally do with a little less lavender, but it's one of my mother's favorites

KD

Delicious sweet and creamy tea. Subtle flavor, a favorite for cool mornings but is also good iced.

Very lovely fragrant tea. Tastes as good as it smells, though I think it could use a little more vanilla and a bit more citrus. I may add some of my own dried orange and try it with vanilla creamer. It's a new favorite though!

The cream and vanilla in this tea make it fantastic. It softens the earl grey enough and gets rid of the slight edge to Earl Grey that I don't always want. This is definitely my new favorite Earl Grey. It is also delicious in blends!

JA

I love Earl Grey but wanted to try something a bit different. I LOVE this tea. The vanilla adds something extra to the flavor and it's quickly become my go-to tea every morning!

Another tasty tea. Very smooth and mellow. All you need is a splash of sweet cream coffee creamer.

I'm not a huge earl grey fan normally, but I love earl grey moonlight...the cream tone mellows out the bergamot a bit for a smoother taste. Definitely recommend.

A lot of people think other earl greys are too strong. If that's the case, this WILL be a favorite earl grey. It's all the things you'd expect with the added creamy smoothness.

When I did drink Earl Gray, this one was pretty nice. But the vanilla and cream notes do overpower the earl gray in my opinion. However, it could just be my taste buds. Get a sample and see if I'm wrong

Delicious tea, it has a very "soft" flavor. Not quite as strong as other Earl Greys I have tried.

probably my second favorite earl grey! has great flavors the blend very well to add up to a blissful cup of tea.

I found the creme flavor to be a bit over powering. But over all it was a very good cup of black tea. I just needed a little less honey since the creme was sweet.