by adagio teas



(36 reviews)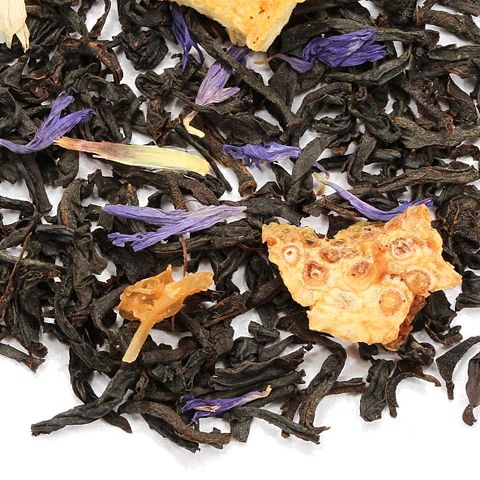 By popular demand, we created this Earl Grey 'cream' blend. Comforting flavors of vanilla and cream combine to soften the citrus notes of traditional Earl Grey. Your taste buds will swoon at first sip of our
Earl Grey Moonlight
. Steep at 212°F for 3-5 minutes
Recent reviews
Was excited for this one, but it fell short for me. Maybe I'm justvnot a very big Earl Grey fan. I found this overly-astringent.

AG

Best tea ever!! I need more than 5 stars. No matter what other teas I buy, I always have some of this on hand.

AW

This is a wonderfully sweet earl grey tea! I would recommend this both to newer earl grey drinkers and to those who already love earl greys!

I wanted to love this one but I found the vanilla to be very artificial and odd tasting.

Another lovely earl grey by adagio. One of my favorites for any day and any time.

This is such a nice early grey. The vanilla cream flavors really balance and mellow out the intense bergamot nicely. It also blends nicely with some of the berry flavored or other citrus black teas.

i'm a big big fan of this. tastes very creamy and reminds me of froot loops

CD

Anything with cream in it is my bestie. I'm all for the bite of Earl with the smoothness of vanilla and the rich buttery hit of cream. I like fatty, rich tastes so this satisfies my palette.

This was the first tea I ever added to my now fairly large collection. And it remains one of my favourite teas. It is absolutely lovely paired with a scone or cookie.

LD

This is without a doubt my favourite earl grey tea ever! It is so smooth, creamy and relaxing. Absolutely delightful.

Simply the best blend available! So smooth and creamy. Adagio is one of the only places that still uses cornflower petals in their E.G. Their customer service and shipping are great too!

I really enjoyed this earl grey, bur I feel like it would be enhanced by adding lavender

ZH

Love this tea. Tastes absolutely incredible and very flavorful. Also, is very calm for the heart, does not make you get heartbeat or sleepless even if you drink it late at night.

GS

My favorite earl grey. Earl Grey has always been one of my favorite, fragrant tea. However, in many blends the bergamot would upset my stomach. Not this one! The creamy notes and floral aspects might not be ideal to everyone, but for me they were perfect. Great tea!

This is my favorite tea to drink! Black tea can be really dark and harsh, but the cream definitely lightens the flavor. The lavender mixed in is the perfect combination for my morning commutes: caffeine to get the day started and lavender to make me feel calm.

This one is awesome because it's so smooth. It's like meditation in a cup. A very soft mouthfeel!

One of my favorite iced teas. I brew it overnight in the fridge for about 14 hours (I find a full 24 to produce a bitter tea). Full taste and mouthfeel, refreshing on a hot day.

I'm not fond of the corn flowers. Too floral for me.

KZ

I adore this tea. The cream flavor is smooth and delicious, but not overpowering, with lovely floral notes.

This tea is delicious all around, and is perfect for London Fog

One of my Favorite earl grey's, it makes an excellent London fog latte and is just as good iced (if not better).

A very floral blend with a sweet aftertaste! One of my favorite earl greys to date!

This is one of my favorite earl grey's! It's nice and creamy, with a good balance of lavender (which is one of my favorites)!

I could personally do with a little less lavender, but it's one of my mother's favorites

KD

Delicious sweet and creamy tea. Subtle flavor, a favorite for cool mornings but is also good iced.

Very lovely fragrant tea. Tastes as good as it smells, though I think it could use a little more vanilla and a bit more citrus. I may add some of my own dried orange and try it with vanilla creamer. It's a new favorite though!

The cream and vanilla in this tea make it fantastic. It softens the earl grey enough and gets rid of the slight edge to Earl Grey that I don't always want. This is definitely my new favorite Earl Grey. It is also delicious in blends!

JA

I love Earl Grey but wanted to try something a bit different. I LOVE this tea. The vanilla adds something extra to the flavor and it's quickly become my go-to tea every morning!

Another tasty tea. Very smooth and mellow. All you need is a splash of sweet cream coffee creamer.

I'm not a huge earl grey fan normally, but I love earl grey moonlight...the cream tone mellows out the bergamot a bit for a smoother taste. Definitely recommend.

A lot of people think other earl greys are too strong. If that's the case, this WILL be a favorite earl grey. It's all the things you'd expect with the added creamy smoothness.

When I did drink Earl Gray, this one was pretty nice. But the vanilla and cream notes do overpower the earl gray in my opinion. However, it could just be my taste buds. Get a sample and see if I'm wrong

Delicious tea, it has a very "soft" flavor. Not quite as strong as other Earl Greys I have tried.

probably my second favorite earl grey! has great flavors the blend very well to add up to a blissful cup of tea.

I found the creme flavor to be a bit over powering. But over all it was a very good cup of black tea. I just needed a little less honey since the creme was sweet.