by adagio teas



(38 reviews)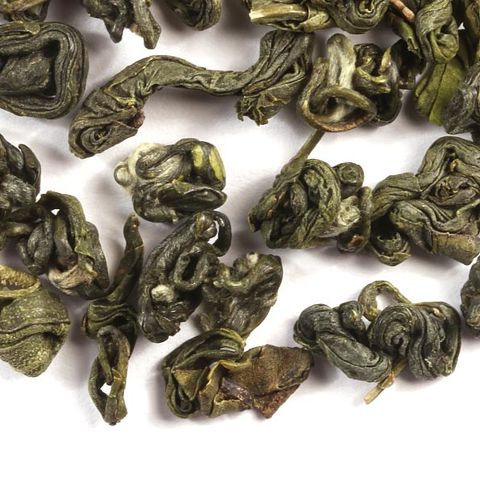 Sleeping Dragon green tea is grown at about 3,000 feet in the mountainous Fujian province. The tightly rolled leaves and silvery fuzzy buds give this tea its signature shape and name. In the cup, it delivers a soft, fruity sweetness enfolded by a rich smokey note similar to a gunpowder, but more complex and crisp in the finish. Sleeping Dragon remains a great cup for a green tea novice or those who oppose the grassy character of some varieties. Steep at 180°F for 2-3 minutes
Recent reviews
Mmmmm, this one is delicious!! Warm, toasty, rich. This was one of my favorites in the Green Tea Portions Sampler. I will definitely be getting more of this!

IT UNFURLS! That's always fun to watch. Smokey. Green.

A magical name for a magical tea. It's not all that but atleast has some flavor to it.

Not as good as other pure greens i've had but this tea is still pretty pleasant. it's not crisp like I like it, but the smooth smokey hint makes up. The unfurling gives many more resteeps that makes the cups last.

I wish I liked green tea more than I do. I found this one too grassy. But it was fun to watch unfurl.

WF

Not bad by any means, but not something that fits my tastes very well. Too weak to leave much of an impact, positive or negative

This tea really hits the spot! It has a very earthy and energizing flavor to keep you going

This tea is as lovely to watch steep as it is to sip. A mild green tea with no grassiness. Good plain or with a drop of honey. Stands up to multiple steeps. Nice to have on hand for green tea lovers.

Steeped 2 mins @ 165°F x 5 steeps!

CK

A nice, vegetal green that's smooth all the way down. It struck me as a little odd at first but the more I became acquainted with it, the more I began to like it. It's also quite buttery with little to no grassiness.

Rolled teas are the best to watch steep. It's like magic when you watch them unfurl and see just how big the leaves are.

When hot the tea did have a slightly vegetal flavor, but that mellowed out as it cooled. All in all, a nice green tea. Milk, not too grassy or hay-like, and I did not get any bitterness.

Steeped 3x: 175F 2.5min, 180F 2min

EC

I used to think I liked green tea , but most of the greens I have tried lately (especially from Adagio) have just not been my thing. I really do try not to oversteep, but this turned out bitter anyway. It did have a spinach sort of taste at the beginning that went away and just became a bitter green tea. It's hard to describe. I wouldn't be able to tell you if it was grassy, vegetal, or buttery. I didn't enjoy it overall. The one positive thing I've noticed with the Adagio greens is that I can get a solid three steeps out of them, and they seem to get a little better each time.

I really enjoyed this green tea. Steeped at the recommended 180 degrees for 3 minutes, it had a savory, smoky flavor that was smooth with no bitterness.

my favorite tea in the gunpowder family, impossible to oversteep, smooth and pleasant flavor and taste.

Green teas are not my favorite but this one lacks the "grass" flavor and the smoky undercurrent makes it unique. If green was my thing this would be it.

CR

A like grassy but a pretty good flavor profile. Good tea. I brewed at 180 F at 3 min

Good tasting green tea without the grassy taste. This one tastes more fruity/floral than other greens I've tried. Good for multiple steeps.

My CommuniTEA cup today didn't taste much like the description but was still very nice. A somewhat grassy, vegetal tea with spinach flavors and lots of mineral at the finish. No smokiness or fruit was tasted. Brewed at 180° for 3 minutes.

KO

very very good tea- probably my favorite green tea

One of my favorite green teas! Perfect and minerally, a great tea to have will a meal, or any time.

AW

I found this tea was too grassy for me, but if you like vegetal green teas you would like this!

yummy! Very delicious blend of green tea! Delicious

I like this one. It was great by itself, even without sweetener. It also played nicely with some of my herbal teas.

A really lovely green tea, beautiful leaves and a nice savory cup.

Bold and buttery, tastes more like a dragonwell to me than Adagio's dragonwell does.

Such a great cup of tea. Very strong flavor. But do not steep it for too long it can get bitter easily. Use less tea leaves or reduce the steeping time

Very smoky very earthy. Great morning tea. Simple but great!

I love the smoky taste of this one. Sweet too, a lovely green tea.

LD

I used it as the green tea element of a Moroccan mint tea, and it was fantastic. Can't wait to try it on its own.

A favorite green tea, very assertive if you're not familiar with deeper green/vegetal flavor of whole-leave green teas. Has just a touch of bitterness, but can be moderated by lowering water temperature and shortening steep time. Really high quality!

Beautiful. Has a grassy seaweed'y taste that I adore. One of my staple green teas!

Got a sample of this, love the name! Solid green tea, well worth the try, but I tend to stick with decaf teas... Sigh

Love the earthiness and grassiness this tea has. It's delish!

PM

Amazing green tea! It is not very expensive, but the flavor is extremely pleasant. No need for sugar

A little to grassy for me, but its a very high quality and flavorful green tea

Bought this as a gift for my boyfriend - he enjoys this tea thoroughly

I love the little curled up leaves that look like dragons, and the flavor is lovely.

Great green tea for new drinkers. Lacks much of the grassiness many green teas have, while still delivering on great flavor. Fun to watch all the little "dragons" flying around the brewing vessel (I suggest something clear) before they finally settle.