by adagio teas



(22 reviews)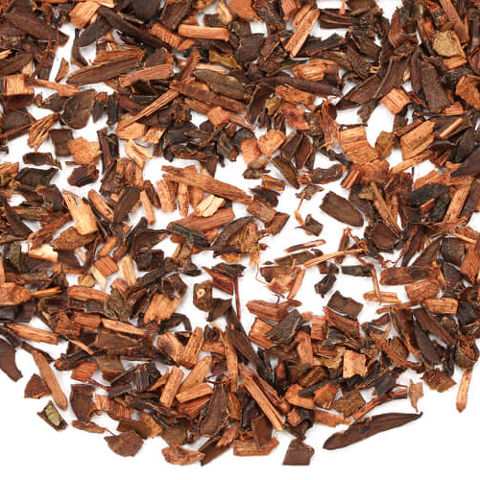 Our
Honeybush Vanilla
combines the rich, warm dark sugar aroma of vanilla with the honeyed aroma and gentle earthy quality of Honeybush herb from South Africa. Soft, sweet and very 'beany' vanilla fragrance (like warm sugar cookies made with fresh vanilla beans). A comforting, caffeine free treat. Steep at 212°F for 5 minutes
Recent reviews
The honeybush seems to be either just weak or old. Vanilla flavor has an artificial taste and aroma to it. Not terrible, but somehow off.

My whole family really liked this one when it came in the communitea box.

I love vanilla, and this one is nice for an herbal tea because the honeybush doesn't compete with the vanilla flavor as much as the rooibos does in Adagio's rooibos vanilla tea. (The rooibos vanilla is a nice tea too, though).

MJ

Horrible. Tastes like artificial vanilla. Blech!!!

Pretty good plain sweet tea. Light vanilla flavor that isn't overpowering. Would be delicious paired with chocolate chip cookies or a vanilla ice cream.

This was a yummy tea. The vanilla came though and paired well with the honeybush. A nice herbal pic.

I could definitely taste the vanilla in this tea, but I also thought it tasted like raisins. I couldn't really enjoy it due to personal preferences.

Yummy vanilla rooibos/caffeine free tea. Works great as a creamy element added to any tea

Love vanilla, so this was great for me. The taste is similar to vanilla yogurt.

CD

I love the sweetness of honeybush tea, but I didn't get a lot of vanilla taste.

I've never met a honeybush tea I didn't like - Adagio's are so lovely, too. The vanilla is a nice pairing with honeybush!

One of my favorite nighttime teas. Very comforting and relaxing. The honeybush is sweet and there's none of the wood I was like you get with Rooibos.

Great rooibos tea. Very creamy. I like to add this to my chocolate tea to make it more delicious

This smells delicious in the bag, like sweet vanilla cake or cookies. The vanilla flavor once brewed isn't as strong as it could be, but I do really like mixing this one with other flavors or having it on it's own with a bit of cream and brown sugar.

It's ok, but to me the vanilla very light. I wanted to use it to add some vanilla to blends but the flavor isn't strong enough to come through.

This was my very first tea I ever tried, so it will always hold a special place in my heart. The flavors are fantastic, its great on its own, with a little milk and honey, or a spash of brandy for those winter nights. This is my go - to after dinner tea.

The earthy smoothness of the Honeybush works beautifully with the vanilla

Not as bad as the rooibos vanilla. The honeybush works much better with the vanilla flavoring. Still a little artificial tasting

Very good tea. No need for sweetener or cream. I really like it.

This is my morning tea, I drink a cup of this every day. It's earthly, floral, and refreshing enough to wake me up

KW

I liked Rooibos vanilla until I tried the honeybush vanilla. This is an earthier more robust flavor that meshes well with my own personal blends. This is one I keep on hand at all times, both for its own sake as well as for blending.