by adagio teas



(26 reviews)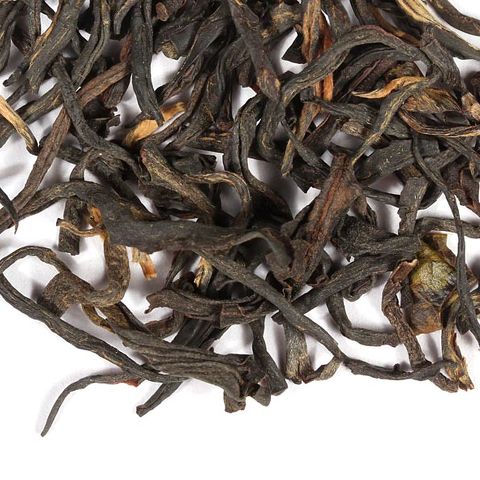 Whether needed to wash down a full
Scottish Breakfast
or to warm your bones after a walk on the misty moors, our
Scottish Breakfast
tea will do the trick. Richly blended with Assam, Keemun, Yunnan and Sri Lankan full-leaf teas, you'll get a deep cup with malty notes, red fruitiness, hints of smoke and a touch of Yunnan pepperiness. Straight up or with a splash of cream,
Scottish Breakfast
is also a fine companion for your overdue Robbie Burns indulgence: "O, my Luve is like a red, red rose, That's newly sprung in June. O, my Luve is like the melodie, That's sweetly played in tune." Steep at 212°F for 3-5 minutes
Recent reviews
Nice morning tea as a replacement for a cup of coffee. Great with some sugar and cream.

I liked this one better than Irish Breakfast, but not as good as Adagio's Yunnan blacks.

Bright and surprisingly sweet--even with longer steeping, it doesn't seem to become as bitter as a standard black tea. I take mine with a bit of heavy cream, but it's also quite good without.

Very nice strong black tea with mild astringency and a smooth taste

Yummy assam tea. Great with milk and sugar. Very rich and smooth

AW

Good strong breakfast tea. If you enjoy scottish breakfast teas generally, you'll definitely enjoy this one!

RJ

This tea is Strong, Bold and Malty! Happiness in a mug!!

This is a lovely bold breakfast tea with hints of chocolate and honey. It's super malty and delicious especially with cream and a bit of sugar to bring out those toasted sugar flavors.

This is one of my favorite black teas. Good strong tea to wake up in the morning. I will have to order a bigger bag.

Great for those morning when you wake up unsure of what year it is because you slept so deeply that you'd love to curl back up and pass out again. Strong and robust flavors. I add honey, and milk and keeps me going all day.

The taste reminds me of iced tea, so you'll probably like this if you like that sort of thing. Very complex flavor profile.

MJ

By far, one of the best black teas I've had. Strong and intense, its bold bitter flavor is well worth every sip. I'd highly recommend it to anyone who likes a nice strong cup of tea.

One of my morning favorites. I like it black. Perks me up to face the day.

This is one of my staples, i always have it on-hand

This tea is a great way to start off your morning!

A delicious standard breakfast tea. Slightly malty and smooth

Received as a sample & it has become my favorite morning tea!

Smooth, jammy, and smokey. The flavors are layered and I get a slightly different notes each cup.

It's stronger in flavor than an Irish Breakfast tea. Although it is not something I would usually go for, it's nice to have it in my tea rotation to break up the monotony a bit. If you like things like English breakfast and Irish Breakfast, but want a stronger punch to it, this is for you!

I was surprised how much of the pepperiness comes out of the dry leaf. The tea itself is tasty, with a stronger kick, in my opinion, than my usual Irish breakfast. Takes milk and sugar well.

4 of us had this at our recent brunch, it was a hit with 2, one said it was much too strong a tea for breakfast, and I enjoyed it, but have to admit the smokiness of it best places this tea later in the day.

Smoky and dark. It's a little more bitter than I prefer, even with sugar, but my dad likes it.

SF

Great basic tea but more flavorful than English or Irish. Also good with a splash of milk.

KT

I love tea. And I love this Scottish Breakfast tea from Adagio, and that is why I keep ordering it!