by adagio teas



(37 reviews)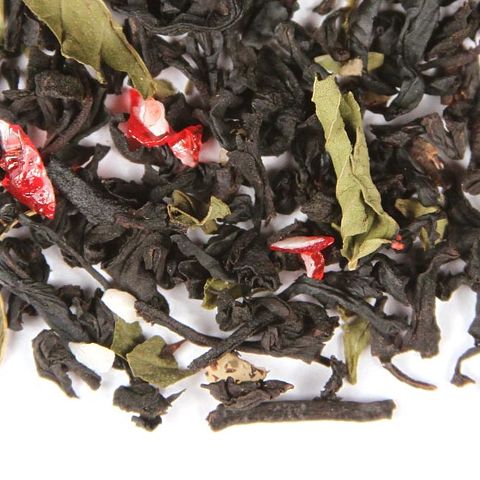 Premium black tea from Sri Lanka flavored with minty Candy Canes. This wonderfully smooth treat that will fill you with warm Christmas spirit and leave you jolly. There's no need to wait for a visit from Old Saint Nick to enjoy this yuletide favorite. He'll know if you've been naughty or nice, so you'd better pick some up for a friend, too! Steep at 212°F for 3 minutes
Recent reviews
KW

This tea was so delicious. I love peppermint anyway but this really had good notes that were clean and refreshing. Can't wait for Christmas when I drink this one.

A festive holiday tea! The peppermint-flavor is not overpowering and balances nicely with the black tea.

It really does remind me of a candy cane, in that there's a creamy sweetness that a plain mint tea wouldn't have. Not really something I want every day, but it's nice enough for the holidays.

I'm not a fan of peppermint tea. It is usually too strong for me. But this tea is milder and creamier in taste. The aroma of the dry leaves is like a sweet peppermint candy. I steeped at 195°F x 3 min, which kept the bitterness of the black tea at bay, and added a raw sugar cube to bring the peppermint candy notes forward. Very good!

Dashing through the snow in a one horse open cup. Not bad.

Such a sweet idea for Christmas. Cute little candy canes brew up a cozy winter brew.

I quite enjoyed this combination. I love herbal peppermint, and this is just as nice.

Honestly tastes like a candy cane to me. It just blends so well

AR

This in one of my Favorite teas by far. Perfect amount of mint and sweetness from the candy canes.

Good tea but not nearly enough mint. And very few actual candy canes

AW

I did not enjoy this tea, although I tend to be picky about peppermint teas.

My utmost favorite tea from Adagio Tea! Just order another bag so I don't run out this year.

Boy did this smell strong! You'd think I had just cracked open an Altoid tin rather than a CommuniTea packet! I decided to make it into a hot tea latte to mellow the flavor a bit. Since the flavor was so strong it held up against the sugar and milk very well.

DB

I really enjoyed this tea. It was very festive to sip the peppermint flavor while doing Christmas activities. A wonderful companion to Christmas cookie baking!

CK

I didn't really enjoy this tea. The peppermint flavor itself wasn't prominent enough to offset the odd choice of a coconut addition. The proportions of the ingredients really threw me, too.

TB

Great seasonal tea. Really enjoy the peppermint notes.

JM

minty, spicy, delicious cup of tea on a cold winters day or night!

Tasty! more of a buttermint than candy cane, but still delicious. It's also pretty dang good for baking, especially in chocoate.

I had this as part of adagio's communitea and didnt see any candy cane pieces in my packet. I also got strong notes of caramel when I opened it, so I honestly thought I got the wrong tea. When I sipped it, it was caramel-y at first and then a tiny kick of mint came after. The more I drank, the more the mint came out. It was nice and light and I ended up really enjoying it.

I would have preferred a bit more peppermint flavor in this tea. I added cream and sugar and it was a delightful cup of candy cane tea.

Nice minty tea, but doesn't quite taste like candy canes.

It was not awful with added milk and sugar, but I couldn't drink it without both. The mint and black tea do not match without the dairy buffer.

MJ

Very minty but has a sort of sickly artificial taste to it. Very meh.

I am in love. I made a latte, added creamed honey, and milk and it was absolutely delicious. It hits my sweet tooth perfectly!

sorry Santa, any mint in tea is just not my cuppa - spearmint is a wee bit better, but :(

I'm not a huge fan of plain peppermint tea so this tea was a wonderful surprise. It's what I've always wanted out of mint tea.

AW

Honestly I found the black tea a little bitter and the candy cane flavor not either sweet and strongly minty--not the tea for me.

Great tea for holidays. It's minty and sweet. Good tea to drink after a thanksgiving meal

Will have to play with brew times, enjoyable smell upon opening, but not quite the flavor i was picturing.

This is my staple tea for Christmastime. The black tea blends very well with the minty flavors of the candy cane. The black tea flavor almost mimics chocolate in a way. A perfect tea for the season!

I love the idea but it's a bit too sweet for me, unfortunately.

This one was very cute in my advent calendar but I wasn't quite living for it.

JK

One of my favorite teas, it is a black tea with a candy mint flavor.

I am not one for mint teas, so I can't really tell you what made me buy this (other than the reviews) but I really enjoy this tea. The smell when you open the bag is absolutely wonderful... smells just like the little red and white candies. The taste is a sweet mint, not too overpowering. Quite lovely on a cold day.

Delicious dessert tea! Adding sugar and cream makes it very indulgent.

The mint flavor is so fresh and cool! Definitely my favorite mint tea! The only issue I have is that it has a lot of caffeine so I can't have it every day. The flavor itself is spot on!