by adagio teas



(17 reviews)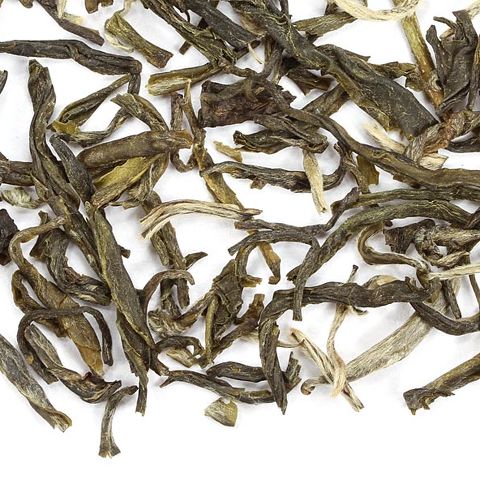 A perfumy tea from the Fujian province of China, infused with the delicate scent of jasmine flowers. Sweet cup, notes of warmed sugar and jasmine in bloom on a summer evening. Slightly toasty like a fresh biscuit. Light, refreshing cup and not overwhelmingly floral. A perfect introduction to our selection of excellent jasmine teas. Steep at 195°F for 2-3 minutes
Recent reviews
Good, but the tannins in this were extremely strong, even if I brewed this at a low temperature.

AW

I brewed this tea hot and felt it had a weird, acidic-type aftertaste.

Great jasmine tea. Clean, plain, delicate and classic

Delicious taste and pleasant smell. Brew carefully.

CK

Jasmine Chun Hao is a really nice floral, though I find it fairly strong. I prefer to mix it 1:1 with Jasmine Yin Hao than drink it alone.

Awesome jasmine tea. Light yet defined, the smell and taste are both wonderful.

Jasmine tea is always great to me and I really like this tea

This is a good introduction to jasmine teas if you're wanting to try out floral teas. It definitely has a strong jasmine scent and taste, but it's overwhelmingly perfumey. The green tea base is toasty and lightly sweet, nice for an afternoon tea when I want to switch it up.

I didn't care for this one, I didn't find the jasmine flavor to come across like their other jasmine teas.

Not my type of tea. The floral smell is overwhelming and overall just not what I'm looking for.

The best way to describe the flavor of this tea is "pretty". A lot of jasmine teas can taste soapy but this one is just about perfect.

The jasmine is light but still very enjoyable! Gets very astringent if you accidentally steep it too hot or too long so be careful of that.

Nice jasmine-scented green I bought for my wife after she got hooked on this style at a restaurant (definitely better than the restaurant's version). Has all the nice aspects of green tea, with a nice jasmine aroma. Agree with the previous review in that less is often more with this one. Jasmine can be too much of a good thing if taken too far.

Less is more with this one. If you put too much in your teapot or tea maker, the flavor becomes overpowering. It smells wonderful, though!

It's a wonderful cheap option for a nice cup of jasmine tea.