by adagio teas



(30 reviews)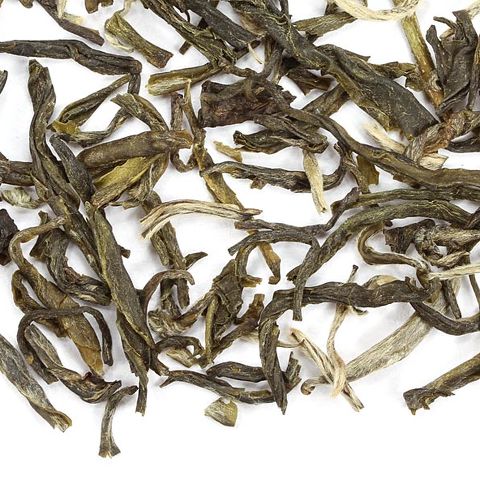 A perfumy tea from the Fujian province of China, infused with the delicate scent of jasmine flowers. Sweet cup, notes of warmed sugar and jasmine in bloom on a summer evening. Slightly toasty like a fresh biscuit. Light, refreshing cup and not overwhelmingly floral. A perfect introduction to our selection of excellent jasmine teas. Steep at 195°F for 2-3 minutes
Recent reviews
This is a delicate, light jasmine that is delightful to drink. While it lacks the complexity of, say, Jasmine Phoenix Pearls, it is a very good low-cost green jasmine. Ten pinkies up!

A beautiful example of a classic jasmine tea. Very floral without being overpowering. Great tea

A wonderfully soft and gentle green tea with soothing jasmine flavor. Reminds me a lot of the dragon pearl jasmine, which happens to be my favorite floral tea.

There are better jasmines out there. I found this one left a dry feel on my mouth and it was a tad too astringent for a jasmine.

KB

A classic jasmine tea. Floral, soft, light, and refreshing.

Light and floral, good for a pick-me-up or a relaxing cup. I do find that the jasmine flavor can get astringent over time, however, if the tea gets left on the shelf for a long period of time.

This tea has such a beautiful, floral scent! However, I prefer to smell my flowers, not drink them. I don't mind light floral notes, or florals in blends, but I'm not a fan of the stronger ones or single note florals.

The second steep was a bit weaker, and a bit more to my taste. There was a distinct astringency to both steeps that I tried to sway with sugar.

In the end I think I got more enjoyment out of simply smelling the tea than drinking it.

Super fragrant, rather delicious, does have a tendency to be astringent, I drank this grandfather style and kept adding hot water across the day, yummy!

CR

ok tea. Comparable to grocery store tea. 170 F at 2 min. I would recomend increasing the leaf to water ratio

I can't get enough of this aroma, this tea smells like Easter! It has a strong floral scent, but the floral taste is not nearly as strong. I enjoy floral teas, so I inhaled through my nose with each sip to get the maximum floral experience. I will be buying this to enjoy on spring mornings.

EC

I actually don't mind jasmine green tea normally, but this tea is very overpoweringly floral. And that wouldn't have been a dealbreaker except for the fact that this particular aroma/flavor reminds me of a shoe store - rubber or chemicals or something. I also always forget how sensitive Adagio greens are to oversteeping, so this ended up very bitter. The second steep was better but didn't improve the flavor.

I'm not a fan. The floral is very strong and it feels and tastes like drinking perfume. If you REALLY like Jasmine you might like it.

The soft mouthfeel of the jasmine pairs well with the green tea. This tea is soothing and goes down well. No additional sweetener is needed.

Very nice jasmine aroma. Astringent, but smooth mouthfeel with a nice green tea flavor. Dry finish. I brewed at 180°.

Good, but the tannins in this were extremely strong, even if I brewed this at a low temperature.

AW

I brewed this tea hot and felt it had a weird, acidic-type aftertaste.

Great jasmine tea. Clean, plain, delicate and classic

Delicious taste and pleasant smell. Brew carefully.

CK

Jasmine Chun Hao is a really nice floral, though I find it fairly strong. I prefer to mix it 1:1 with Jasmine Yin Hao than drink it alone.

Awesome jasmine tea. Light yet defined, the smell and taste are both wonderful.

This is a good introduction to jasmine teas if you're wanting to try out floral teas. It definitely has a strong jasmine scent and taste, but it's overwhelmingly perfumey. The green tea base is toasty and lightly sweet, nice for an afternoon tea when I want to switch it up.

I didn't care for this one, I didn't find the jasmine flavor to come across like their other jasmine teas.

Not my type of tea. The floral smell is overwhelming and overall just not what I'm looking for.

The best way to describe the flavor of this tea is "pretty". A lot of jasmine teas can taste soapy but this one is just about perfect.

The jasmine is light but still very enjoyable! Gets very astringent if you accidentally steep it too hot or too long so be careful of that.

Nice jasmine-scented green I bought for my wife after she got hooked on this style at a restaurant (definitely better than the restaurant's version). Has all the nice aspects of green tea, with a nice jasmine aroma. Agree with the previous review in that less is often more with this one. Jasmine can be too much of a good thing if taken too far.

Less is more with this one. If you put too much in your teapot or tea maker, the flavor becomes overpowering. It smells wonderful, though!

It's a wonderful cheap option for a nice cup of jasmine tea.