by adagio teas



(78 reviews)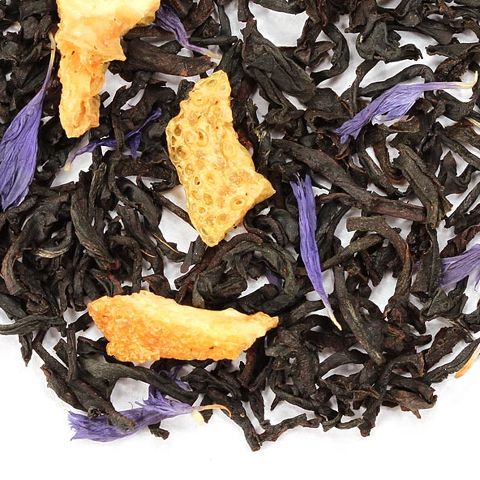 Earl Grey Bravo is a classic blend of artisan black tea from Sri Lanka, flavored with bergamot (a citrus fruit). The perfect afternoon tea: zesty and exhilarating fresh citrus aroma, slightly dry to the nose, with a rounded and balanced orange rind flavor to match the tang of Ceylon black tea. Our Earl Grey Bravo benefits from a pleasantly dry finish with a lingering citrus sweetness. Steep at 212°F for 2-3 minutes
Recent reviews
KW

I am not a fan of earl grey but this one might just change my mind. I liked the citrus taste with it. I also enjoyed it with cream and sugar.

I am giving this a solid 3 stars, as I feel I can't give an unbiased review. I just don't like the taste of Earl Grey. I tried this as part of the CommuniTea, and it just tastes to me like other Earls I've tried. I think it's that weird, Fruit Loop-y taste that is just really off-putting. I know other folks really love it, so it's probably pretty good as Earl Greys go. Just not for me.

The ingredients smell like a citrus perfume and it steeps (2 mins @ 200ºF) into a deep amber. I am not a fan of bergamot (or Earl Greys in general), but using honey as a sweetener and heavy whipping cream helps a great deal to smooth out its nasty aftertaste.

I'm not a fan of bergamot but if you are, this is a good one. Strong, smooth and full of orange flavor too.

AS

Love this Earl Grey! Rich bergamot and cornflower! Perfect with a little cream and a few pieces of rock sugar!

It's a strong Earl Grey with a mighty citrus backbone. Decent stuff.

I love Earl Grey, and this is the absolute best. Great flavor that is bold, citrusy, and stout.

I don't generally enjoy Earl Grey but my boyfriend does. I ordered this for him (been trying for a long time to get him on the 'tea every day' bandwagon to no avail). He definitely enjoyed a big ol' mug of it this morning so I think this is a good one to purchase for him. It was still a bit too flowery for me but I was able to get a cup down. Side-note: this re-steeps so great!

A bright citrusy Earl Grey. I steep at lower temperature (190°F x 2 min) to avoid the bitterness common to black tea. I also find that a little honey sweetens while smoothing out the bergamot. Nice morning wake-up tea, but also refreshing in the afternoon blended with frozen cubes of milk and added vanilla (London Fog Frappuccino).

The citrus is more pronounced than the typical earl grey and slightly astringent, but it's a lovely cup of tea. A dash of cream would smooth it out if you're not a fan of the sharpness of earl grey.

JM

Absolutely love this tea! I have it on auto ship as it is my go to throughout the day.

Good if you like bergamot flavor but a little too strong for me. I like the decaf Ceylon earl grey better.

This has got to be one of my favorite earl grey teas. It's a perfect strong tea to start any day. I do like mine with some sugar.

Good for Earl Grey Lovers, strange for people who like black tea. The floral note was a little strange. Earl Grey is good, but this was an odd twist. Wouldn't throw it away but wouldn't drink it every day.

Great for iced tea. Just delicious. I enjoy all the Adagio Earl Grey flavors.

DL

Earl Grey is one of my favorites. I love a hot cup of tea in the morning, to get me. ready for my day.

EC

Earl Grey is one of my favorites, so I knew I would love this. I actually got this just because I go through so much of it, and I needed to have it on hand. I plan to have it on its own and mix it with other flavors too! No complaints. WIll buy again! <3

I really like all the earl greys from adagio, this included. Perfect in the afternoon with a sweet treat

It's a nice earl grey. It has strong flavors. But, it's a tad bit perfume-y.

KL

This is my husband's favorite tea. He pulled open the container and called me over to smell it before he made it saying, "This tea smells so good."

It has a sweet flavor that does not require sweeteners, just a splash of milk, or ice if you fancy iced tea.

A very nice version of "Earl Grey", but for my taste, with an insufficiently intense flavor.

KB

I love this Earl Grey. Perfect amount of bergamot for me and a great start to the morning

It's a good, basic Earl, but it gets very bitter very quickly if you oversteep. You want to keep to three minutes and maybe at a little below boiling or else it becomes undrinkably bitter.

LF

I love an earl grey and I was so very curious as to what Orange would taste with this flavor. Perfect!

This is a solid Earl Grey. It gets a bit bitter if you brew it too long (which I'm guilty of while multitasking and forgetting that my tea is brewing) but about 3min does the trick nicely. I've been enjoying it with a splash of vanilla simple syrup, and it's delightful.

Classic Earl Grey that finishes with a touch of bitter from orange rind. Even though I'm not a great Earl Grey fan, I must say that Adagio's Earl Greys have thus far had stronger and smoother flavor profiles than many other brands I've tried.

My absolute favorite that I NEVER get tired off. It's good hot, but it saves my life iced.

Bright bold classic Earl Grey which I love to enjoy with a little honey and cream!

My favorite tea, possibly ever. If you like your earl grey with a lot of "oomph", this is for you. VERY fragrant and flavorful.

am a convert. used to think 'not much' about earl grey and even disliked... adagio has changed that :)

TA

I prefer the other earl greys from adagio but this didn't disappoint

CK

I prefer Earl Grey Moonlight, but this tea is so bold and unapologetic that it really is a tea to behold.

real good on its own, with milk and sugar or iced.

Like a froot loop black tea, delicious with cream and sugar. I liked this the best of the earl greys that I've tried from adagio.

This is a very nice earl grey. I steeped for two minutes which was a good move as the bergamot was plenty strong. The taste is smooth and well balanced.

I thought this was a great wary grey. I liked how the bergamot stood out.

LD

It's definitely a bold earl grey, but I can't say it's my favourite. The bergamot tends to overpower the other flavours and leave almost a soapy flavour. It's nice blended with other teas, but it's a little much on its own.

JI

I absolutely love it this! Amazing with milk and sugar

Delicious earl grey. I'm a big fan of the added orange.

i love earl greys and this one is delicious! not my favorite but definitely still delicious

JM

really great Earl Grey tea. pungent Bergamot flavor. blows away the bagged stuff.

This is my husband's favorite Earl Grey and I just enjoy the smell!

AW

This tea wasn't for me--I found it somewhat bitter compared to other earl greys I have had, including from Adagio.

AG

I like this tea because I'm a fan of Earl Grey, but it's a bit harsh for an Earl Grey. Good for waking up though...

This has been my daily tea for over ten years. I love it with milk and can't start my day without it. Both the taste and aroma are delicious. No other tea has such a perfect amount of bergamot. I brew a heaping teaspoon of loose tea for 4 minutes at 212 degrees. My daughter enjoys hers with sugar.

HS

Bravo, indeed. Bergamot and orange rind blend with lavender aromas to create the perfect black tea for any occasion.

I love earl grey and this goes really well with milk and a little of sugar!

One of my all time favourite teas! Its just the perfect blend to make me want to sip it all day!

One of my favorite Earl Grey's. I like the taste of citrus with bergamot.

Not a huge fan, a little bitter for my tastes. Black tea fans will probably enjoy it.

CD

I love my teas strong. This has the kick necessary to get the day underway.

My favorite Earl Grey, and I have tried a lot. Smooth, strong but not overbearing taste.

A heady-strong earl grey, just the way I like it! Absolutely hot alone, or with a pinch of sweetener and a generous pour of cream.

I personally love this tea but I will admit it's not for everyone because it is quite strong for an earl grey.

IL

Great choice. Smells nice, looks beautiful, flavorful, good value

CL

I love Earl Grey tea and tried this one at my friend's house. It has a great flavor with a hint of citrus. Mild and delicious!

I never thought I liked earl gray until I tried it at work (limited choices), I was excited to try one from Adagio and decided on this one based on the reviews. It isn't quite as good as the other one I tried. I think it is a bit too floral for my liking, but still overall a good tea.

A go-to of mine. The extra bergamot is a nice lively kick to an old favorite!

EL

a solid early grey with the citrus keeping it from falling flat

I love Adagio teas. This is one of my favorites! One of the favorites when I have a tea party!

I've never actually tried Earl Grey before, but I really enjoyed this one.

VS

Fantastic earl grey with vanilla and citrus aroma. No bitter aftertaste if oversteeped or made too strong.

Brewed 2.5 min at 212 F. Not a huge fan, really strong early grey flavor with plenty of tang and citrus. Probably would go better with some milk to lessen the flavor. Dry mouthfeel.

I don't love it as much as the Moonlight Earl Grey, as I'm a huge fan of floral teas, but it still great! That pop of citrus helps me get through the day.

My favorite tea. Just smelling it give me a warm relaxed feeling. This is definitely the best place to buy. It has a wonderful taste with or without milk. It's great hot or iced.

Isn't it crazy that I've never had this kind of tea before coming across it in my advent calendar? It was lovely and I need to buy more.

This is a go to favorite of mine! I love to brew this with some cream tea - delicious!

I like earl grey teas, especially in the morning. I am just starting to appreciate the bergamot in my tea. But this one was almost too strong for me and though I like citrus I wasn't fond of it in this tea.

Not bad!! This one is easy to oversteep - it really doesn't need more than two and a half minutes at most.

A straightforward earl grey tea with hints of zesty orange rind. While I prefer Earl Grey Lavender (which is, admittedly, a very strong floral tea), this one is a much tamer alternative that's perfect for lazy afternoons when a you need a bit of a caffeine kick to get through the rest of the day. This one very much strikes me as an "everyday" tea.

I love the citrus added to this one. It makes the already aromatic earl grey so light and airy!

really nice flavor. not my favorite earl grey but very nice citrus notes. I do recommend if you like citrus :)

Solid and bold Earl Grey. Great with milk and honey!

CS

I love this tea. I mix it with Adagio's Earl Grey moonlight when I want a bit of a vanilla kick to my earl grey. I was a Teavana customer and now I've found a replacement!

JW

I love this Earl Grey! It's a great pick-me-up in the afternoon or early evening. It's a great, classic tea. I drink it regularly.

A nice everyday tea. The Ceylon base is tangy and not too bitter. A great dry and sweet finish, though I would prefer a little more bergamot. I think this will be a regular buy!