by adagio teas



(28 reviews)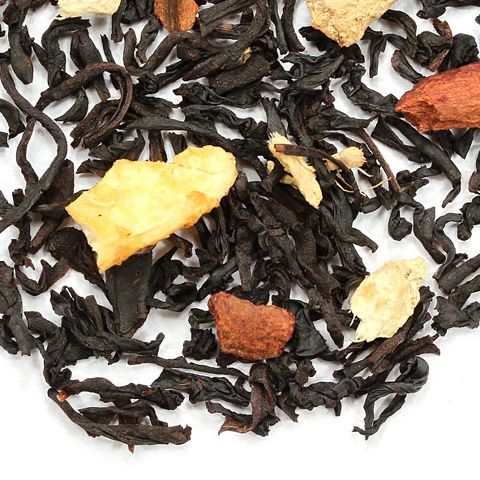 Premium black tea from Sri Lanka flavored with sweet Gingerbread. Both Gingerbread men and women agree: this unique tea is the perfect addition to any house (Gingerbread or regular). A comforting old-world treat, delicious in any season. Warm and cozy, perfect sweetened or not. Steep at 212°F for 3 minutes
Recent reviews
A wonderful black tea with gingerbread flavors. I add a splash of milk to add a bit of smoothness.

It tastes like gingerbread, which is the goal of the tea.

CK

Not very bread, but very ginger. I was hoping for it to have a more vanilla or just general cookie flavor. It's an ok tea, just not what I was expecting.

I had it for the first time during Christmas and it tastes like I'm drinking a liquid gingerbread man. It's very festive and the ginger is perfect .

This is my FAVORITE iced tea flavor. Doesn't seem like gingerbread would be delicious iced, but it is. A little sweetness and a wonderful aroma.

I liked this! It's great for the holidays, with a nice spice to it

this was part of my Holiday and most enjoyable ! it's a flavor that we adore

Brewed at 212F for 3 minutes

I had expected a spicy smell to this tea, but I wasn't really get much of anything. As far as the flavor is concerned, I'm not really getting the gingerbread quality to it. There is an ever so slight artificial quality that lingers for a few moments in the back of the throat. Overall it is a decent spiced tea.

TB

Solid but not spectacular.

CK

While this tea is nice, it really doesn't taste like gingerbread. It's spiced like a typical gingerbread but doesn't really get all the way there

Very astringent black tea with little gingerbread flavor, although the aroma was nice. Clove flavor strong.

The first taste of the first sip didn't really blow me away, but the gingerbread flavor followed a second later and I really enjoyed it. Each sip was like that, which was odd, but I enjoyed it overall

EC

I love black teas, but I am not a super huge fan of gingerbread cookies in general. This tea smells and tastes really wonderful though! On first taste, it's mostly a very light ginger flavor and a nice solid black tea taste, which I am good with! But then you get this perfect aftertaste of gingerbread cookie - literally like you just took a bite of one. It's understated, but I think that's perfect since gingerbread can be an overwhelming flavor if overdone. I probably wouldn't buy more of this simply because I don't really crave gingerbread, but it's a very pleasant tea that I enjoyed a lot.

A solid Meh. I got very little ginger, more of a sort of warm aftertaste than anything. It wasn't bad, just not gingerbready.

Underwhelming, mostly just tasted like your average black tea. Lots of orange peel, no orange flavor. The fake gingerbread aroma wasn't great.

Kind of a sad tea. No gingerbread flavor at all, just an average black tea. Which sucks, because I love gingerbread.

This tea tastes better when cooled and some raw honey is added to bring out the flavors. Leaves me craving gingerbread cookies now!

I could smell an artificial spice from today's CommuiTea packet. Though there was no scent while steeping, and not really much flavor when hot. After cooling a little, there was a bit of gingerbread-esque flavor, but it wasn't strong enough to the point where I could go, "Yes, that's definitely gingerbread," without knowing beforehand. I wouldn't have even picked out the ginger to be honest. All in all, it was a decent, lightly seasoned black tea.

This is a review for a CommuniTea packet, so here's hoping a larger sampling would yield better results.

Steeped 200F for 4min, the steeped a 2nd time 212F for 6min.

It is certainly unique, not my favorite. It does remind me of some cheaper theme teas

At best it's just okay. Bought it one year when I couldn't get Simpson & Vail's gingerbread tea and was disappointed. It's nowhere near as good.

MJ

One of the worst spiced teas from here. Tastes artificial and nowhere near gingerbread!

Yummy tea to warm up in a cold day. Goes really well with milk.

I LIVED for this tea, I shared it with friends at a birthday party. I will have to get more.

I love this tea for fall and winter! I actually like this tea better than Adagio's Christmas tea for the holidays. I love it with just a bit of cream.

This flavored tea is very light in flavor and the gingerbread can be easy to miss. The black tea is not overpowering or too strong but definitely present while there's a warming mild ginger flavor that is accompanied by a sweet bread/cookie type ending flavor. The first few times I tried this I completely missed the gingerbread flavor and now that I've thoughtfully drank more of it I finally got the gingerbread flavor I was looking for, it is still very light but in a pleasant way.

It's beginning to look a lot like...

...the most wonderful time of the year!

It's like having Christmas in a cup! The gingerbread flavor is well defined. It's the perfect tea for a cold winter morning.