by adagio teas



(16 reviews)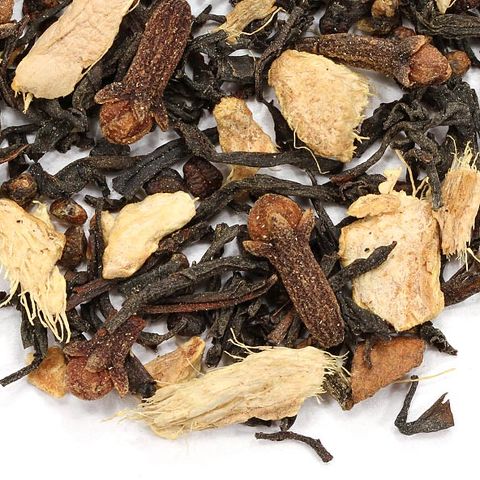 Our
Masala Chai
tea blend combines premium Ceylon black tea with cinnamon, cardamom, cloves and ginger. In Indian culture, 'Masala' means 'a blend of spices', and 'chai' simply means 'tea.' So,
Masala Chai
is literally 'spiced tea'. Our interpretation tries to stay true to its definition thanks to a warm and inviting fragrance, zesty flavor, and invigorating, aromatic finish. We suggest two heaping teaspoons per 8 oz cup. Sugar or milk if desired. Steep at 212°F for 7-10 minutes
Recent reviews
Very bold flavors, deliciously balanced and full of spice

A good basic chai. I like it with milk and honey, hot or cold.

This was fun to get in my advent calendar and I liked it with a bit of milk.

I love the smell, but the tea itself isn't strong enough for my tastes. I normally end up steeping for longer than the recommended time. Otherwise, add milk as desired and enjoy the traditionally Indian tea.

Ive had a sample of this and as far as Chai tea's go this one is pretty good! But for me theres a bit too much cinnamon and not enough of the other spices.

Since my mom swears by her chai lattes, I picked up a bag of this to test out. It's hands down the spiciest tea I own, and really unique in my collection. Cinnamon and cloves are dominant flavors, and really make a good holiday-time brew. Just make sure if you transfer into a container that chai is the only thing you plan on putting in it after. The scent lingers. For chai fans, this is a nice one.

I like to brew this as iced tea - I think the ice mellows the flavor just a little bit - and it smells delicious!

I am just starting to try chai teas. I find the cinnamon to be a bit overwhelming in this type of tea. Overall found it to be too sweet. However, my younger sister who likes sweet teas put honey in it and she says she loves the tea.

Whoo!! Spicy!! A bit much for me, not my favorite. It gives me heartburn :(

One of my favorite chais! Love the spices used, so good in a latte!

My friend gave me some of this and I loved it! It's very spicy, which is how I prefer my chais. My mom who's even more particular than me really liked it too.

This tea is full of spice and flavor and is very strong.

Reminds me of the holidays and boy do I love the holidays. Spicy and bold bodied black tea with all the right warm notes!

This tea, which I had a sample of in my first order sold me on loving Adagio tea, spicy, amazing straight or with vanilla creamer!

KD

Great tea for drinking hot or iced. We usually make it in a large batch and then drink a glass everyday.