by adagio teas



(42 reviews)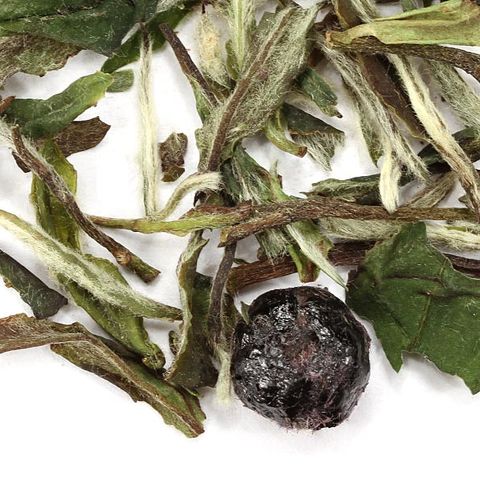 White Blueberry
tea blends together the taste of juicy blueberries with premium white tea from Fujian province, China. Very fragrant, like freshly harvested 'highbush' blueberries (the aromatic variety). Soft, rounded mouthfeel with a clean, refreshing finish.
White Blueberry
tea is a customer favorite, delectable both hot or iced. Steep at 180°F for 3-5 minutes
Recent reviews
a good, light tea. I like this one better cold than hot, though.

JI

I love this teas so much. One of my new favorites.

I could not find the blueberry in this tea. I tried it hot and iced, but not a favorite.

Yummy! Very tasty. Highly recommend for any white tea lovers

VERY good hot (especially if you're a weirdo like me and you add a teensy bit of maple sugar to your mug) and delicious iced with mint!

Light tea with a hint of blueberry. Does not have strong taste or flavor. Very enjoyable

Really light, springy, with a hint of blueberry. Really lovely cold, too.

Light subtle diluted blueberry flavor on the front end. More flavor lingers on the back end. Clear flavor, without bitterness, when steeped at the right temperature. Reminds me of the little specs of dried blueberry in some baked goods. A little touch of stevia was perfect.

I don't usually enjoy blueberry teas but this one in particular wasn't bad at all. I like the white tea.

Decent tea, I did find the flavor to be pretty non existent though. Although white teas are in nature very light and delicate.

A nice iced tea choice for a sweet afternoon pick me up

Yummy blueberry tea. Very fruity. I love white tea also, very tasty

KK

Wonderful afternoon treat! Probably would also be amazing as an iced tea also! Just try that sometime. Just enough blueberry taste, not overly sweet.

Nice tea. It is great on it's own or mixed with other teas.

Light blueberry flavor and fairly sweet on it's own, though works well with sugar or honey. Doesnt get bitter if slightly oversteeped.

The blueberry flavor is delicate and balanced, making a wonderful cup of tea

Very refreshing, lightly sweet taste. Wonderful afternoon drink. Fantastic cold brewed

A very nice cup of tea. I know being a white tea it will be a little more weak in flavor so for what it is, its very good. Mild, light blueberry flavor (yes, I wish there was a little more blueberry to it) with a soft finish that is very good iced! I use agave with it because honey takes away from the blueberry that is already too mild. I always have some of this on hand.

I love this tea in the evening. Smooth and the blueberry is not overpowering.

I received this tea as a sample and would totally buy it. It's very fragrant and flavorful

Adagio gave me a free sample of this tea and it was one of the most enjoyable cups I have had. It smells delicious and tastes the same

This tea is very subtle and easy to drink. It's nice in the afternoons or evening.

Excellent tea! This is a delicate white tea with a subtle blueberry flavor. Wonderful to enjoy in the evening!

IL

Love this tea! Subtle flavor, but delicious. Good for night time- while and low caffeine

Great white tea! The berry flavor is subtle and not at all overpowering. I taste the tea more than the blueberry. The flavors complement each other for a happy, uplifting drink. Adagio really knew what they were doing when they stuck a single serve packet of this in my order; I almost want to make another order just to buy more of this!

Love berry tea but not when it's to storing this was perfect

I received this one as a free sample in an order. I was surprised by how much I enjoyed it. The blueberry flavor was lovely and very present without being overly strong in a fake way. Nice cup.

CL

I received this tea as a free sample with one of my orders. It was the first tea I tried out of my new shipment and it was very nice. It's aromatic, has a nice mouth feel, and a very good aftertaste.

Very good, floral, and delicate. I am a fan, but only occasionally so. White tea isn't quite strong enough for me.

JK

It is good for a light tea. Can taste the blueberry flavor nicely

Nice light tea. It is a good white tea. It could use a little more Blueberry flavor

Yum! Possibly my favorite white tea yet! Perfectly light and delicious, it tastes almost like a blueberry muffin. ☺️😋

AM

This is one of my favorite teas. The blueberry flavor is light and refreshing.

Love the flavor on this one. Overall it's a great tea!

Pretty good. Light flavor. Fresh and not that awful artificial blueberry flavor. Natural.

Good flavored white tea, nothing crazy but got a about two good resteeps before the flavor ran out.

Solid white tea. Tastes light, but it's fruity without needing sweetener

Very light white tea and not overly sweet. Great scent and blueberry flavor.

I enjoyed this tea but I felt that the blueberry flavor was slightly lacking, still yummy tho!

Not a fan. I don't get any blueberry flavor. What's worse though is that the tea has this sour aftertaste to it (best way I can describe it). It's not an issue of over-steeping or over-temp water either, so, I can only gather it's the blend itself. Not for me.

Tart and pleasant. This one's great for hot days.