by adagio teas



(62 reviews)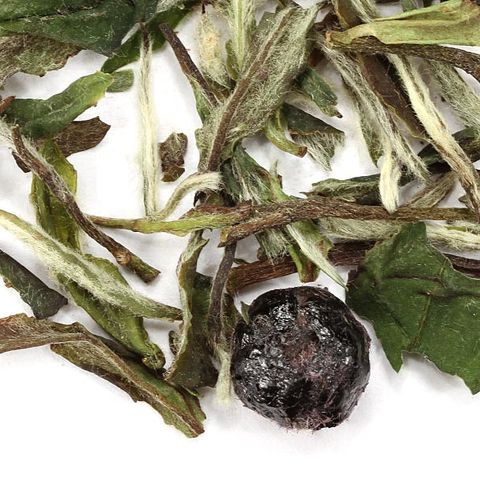 White Blueberry tea blends together the taste of juicy blueberries with premium white tea from Fujian province, China. Very fragrant, like freshly harvested 'highbush' blueberries (the aromatic variety). Soft, rounded mouthfeel with a clean, refreshing finish. White Blueberry tea is a customer favorite, delectable both hot or iced. Steep at 180°F for 3-5 minutes
Recent reviews
The loose tea smells so lovely, but once brewed it is a little lighter than I'd like. Still a nice white tea, regardless.

A mild white tea with a blueberry flavor. Not one I'd reach for often but I prefer black teas.

A mild tea with a hint of spring flowers, subtle top notes of blueberries, and the impression of honey. It steeps to a light golden color and stands up to multiple infusions. I steep at 180°F x 2-3 minutes to avoid burning the leaves, and use a cold steep for repeat infusions. It is enjoyable hot and cold. No sweetener needed.

Sweet and light, cheerful

A tea to sip mindfully

Soft blueberry

(Haiku Review)

CK

Delicious white blend! Better than the Tazo white blueberry, this actually tastes like blueberries. Tazo has a good blueberry flavor, tastes natural, so I enjoy this. Great iced and hot. It's very refreshing and pleasant.

I love this blend that has white Bb in it. So i took a chance and all in all it was okay.

This was a very light delicate tea. You could taste the blueberries just too light for me to really enjoy

JM

White teas are so light, and this was no exception. However, the blueberry is clearly there and identifiable. It was tasty as an iced tea with a spoonful of sugar. A good little summer tea.

CB

I like this tea, but not a fav, I wanted more blueberry taste

It was okay. Whites can be hit or miss. Depends on the fruit and blueberries are not my favorite.

I like brewing this as a cold brew. It's okay when it's hot

I am not a fan of either white tea or blueberry flavor but my husband loves this tea

A nice refreshing fruity white tea that I would definitely recommend!

Blueberry and white go together so well! Very good fruity white tea.

EC

This tea isn't bad at all, though I tend to find white teas too weak to my liking. The leaves smell fruity and wonderful - however, the brewed tea has absolutely no trace of blueberry flavor, either hot or iced. It's really very floral. It's a solid white tea, but I would not buy this if I was expecting any blueberry flavor at all.

The blueberry flavor really blows away all expectations I had! It's very light and slightly sweet. I could definitely drink a whole pot of this in one sitting.

CK

I quite like Adagio's other blueberry offerings but this exceeds all the rest (at least of those I've tried). The blueberry is sweet enough to give the white tea a little oomph without overpowering it like so many other flavorings do.

I don't drink white teas often, but when i do they are a welcome change of pace. Delicate yet flavorful.

The scent of blueberry was strong in the CommuniTea packet, I did get one whole blueberry as well. Once steeped the blueberry flavor was more subtle than I would've guessed from the scent, but it got a bit stronger as it cooled.

I did do a 2nd steep. The blueberry flavor was all but gone, but it was still a nice cup of white tea.

Steeped (1) 175F 2.5min, (2) 185F 3min

Brewed 3 mins @ 175F with rock sugar added

The smell is like that of ripe blueberries. In my opinion, this tea is exactly as expected. Thanks to the white tea, there is virtually no bitterness. The blueberry flavor is certainly at the forefront and quite delicious. I can only imagine how delicious this would be if I had made it into a latte.

Tastes oddly "bready" to me. Based on the sweetness of white teas usually, I'd have hoped for more of a sweet blueberry, but it's like... blueberry bread is the way I'd describe it.

Very aromatic and delicious flavored tea. The blueberry flavor is delightful melded with the crisp, delicate white tea. Slightly astringent finish. Yummy!

A delicate blend of crisp luscious blueberries against a white tea background.

white teas are one of our faves, for health benefits but also the delicacy that allows other flavors to come through

This a good, light tea hot and is a good sweet tea with adding little sugar. I like this one better cold than hot, though, which is unusual for me and probably due to the lightness. The flavor just seems to come through better.

JI

I love this teas so much. One of my new favorites.

I could not find the blueberry in this tea. I tried it hot and iced, but not a favorite.

Yummy! Very tasty. Highly recommend for any white tea lovers

VERY good hot (especially if you're a weirdo like me and you add a teensy bit of maple sugar to your mug) and delicious iced with mint!

Light tea with a hint of blueberry. Does not have strong taste or flavor. Very enjoyable

Really light, springy, with a hint of blueberry. Really lovely cold, too.

Light subtle diluted blueberry flavor on the front end. More flavor lingers on the back end. Clear flavor, without bitterness, when steeped at the right temperature. Reminds me of the little specs of dried blueberry in some baked goods. A little touch of stevia was perfect.

A nice iced tea choice for a sweet afternoon pick me up

Yummy blueberry tea. Very fruity. I love white tea also, very tasty

KK

Wonderful afternoon treat! Probably would also be amazing as an iced tea also! Just try that sometime. Just enough blueberry taste, not overly sweet.

Light blueberry flavor and fairly sweet on it's own, though works well with sugar or honey. Doesnt get bitter if slightly oversteeped.

The blueberry flavor is delicate and balanced, making a wonderful cup of tea

Very refreshing, lightly sweet taste. Wonderful afternoon drink. Fantastic cold brewed

A very nice cup of tea. I know being a white tea it will be a little more weak in flavor so for what it is, its very good. Mild, light blueberry flavor (yes, I wish there was a little more blueberry to it) with a soft finish that is very good iced! I use agave with it because honey takes away from the blueberry that is already too mild. I always have some of this on hand.

I love this tea in the evening. Smooth and the blueberry is not overpowering.

I received this tea as a sample and would totally buy it. It's very fragrant and flavorful

Adagio gave me a free sample of this tea and it was one of the most enjoyable cups I have had. It smells delicious and tastes the same

This tea is very subtle and easy to drink. It's nice in the afternoons or evening.

Excellent tea! This is a delicate white tea with a subtle blueberry flavor. Wonderful to enjoy in the evening!

IL

Love this tea! Subtle flavor, but delicious. Good for night time- while and low caffeine

Great white tea! The berry flavor is subtle and not at all overpowering. I taste the tea more than the blueberry. The flavors complement each other for a happy, uplifting drink. Adagio really knew what they were doing when they stuck a single serve packet of this in my order; I almost want to make another order just to buy more of this!

Love berry tea but not when it's to storing this was perfect

I received this one as a free sample in an order. I was surprised by how much I enjoyed it. The blueberry flavor was lovely and very present without being overly strong in a fake way. Nice cup.

CL

I received this tea as a free sample with one of my orders. It was the first tea I tried out of my new shipment and it was very nice. It's aromatic, has a nice mouth feel, and a very good aftertaste.

Very good, floral, and delicate. I am a fan, but only occasionally so. White tea isn't quite strong enough for me.

JK

It is good for a light tea. Can taste the blueberry flavor nicely

Nice light tea. It is a good white tea. It could use a little more Blueberry flavor

Yum! Possibly my favorite white tea yet! Perfectly light and delicious, it tastes almost like a blueberry muffin. ☺️😋

AM

This is one of my favorite teas. The blueberry flavor is light and refreshing.

Love the flavor on this one. Overall it's a great tea!

Pretty good. Light flavor. Fresh and not that awful artificial blueberry flavor. Natural.

Good flavored white tea, nothing crazy but got a about two good resteeps before the flavor ran out.

Solid white tea. Tastes light, but it's fruity without needing sweetener

Very light white tea and not overly sweet. Great scent and blueberry flavor.

I enjoyed this tea but I felt that the blueberry flavor was slightly lacking, still yummy tho!

Tart and pleasant. This one's great for hot days.