by adagio teas



(19 reviews)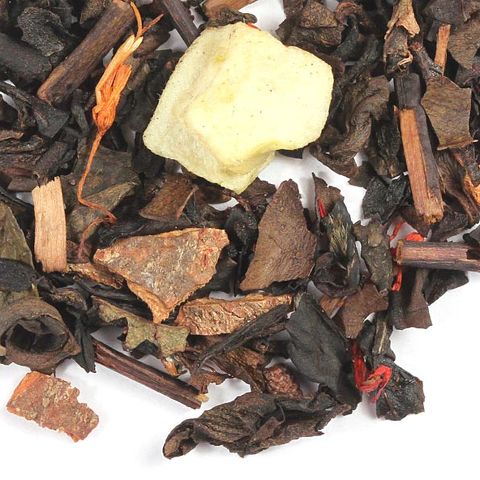 The delights of maple are no longer bound by breakfast foods. You can now enjoy that delicious flavor you love, minus the sticky fingers! We've blended the smooth clean taste of oolong with the subtle sweet flavor of maple and rounded it all off with a hint of creme. Add a touch of your favorite sweetener (we suggest maple syrup!) and all you need to do is decide whether to drink this tea for breakfast or dessert! Our natural creme flavor is vegan-friendly and doesn't contain any dairy ingredients. Steep at 212°F for 3-5 minutes
Recent reviews
I found that the maple flavor was really light if not non-existent in this, and was overwhelmed by the cloves. It's nice if you want a general spicy tea for cold days that is lighter than a chai, but not sure that I would repurchase because I really didn't get enough maple flavor from it.

My favorite Oolong. For a treat I add a bit of honey on occasion. excellent as a blending tea as well!

This tea is like drinking a cup of autumn. Warm and comforting.

It's alright. It tastes almost like a weak chai. Not my favorite. But it goes well with breakfast!

JK

An absolutly warm, smooth, flavorful tea. Oolong works so well with cream

This is a very good tea, with delectable pancake vibes. I prefer it in blends, but it can stand alone as well.

Absolutely delicious! Perfect with a little sugar or honey

I absolutely love this one! The smell is amazing too. Comfort in a cup!

This oolong has a very complex flavor but it's delicious. Maybe it could use a bit more maple flavor, but I can still taste it and it blends well with the cream taste as well. A strong flavor, but not overpowering. Tastes like a chilly, November day!

It's needs a little more maple flavor, but I still love the spice and cream taste that comes through. It's a good tea if you want those Fall flavors without overpowering yourself with spice.

Kind of disappointing. I was hoping for just maple, but instead there's all these extra spices and the weird creme flavor, which I don't like.

Pretty nice. Needs more cream and maple flavor. Not as strong as it smells. Maybe I should try adding a bit of syrup?

This is a decent oolong tea, but I didn't get much of the maple or cream flavors.

Very satisfying, yummy, and sweet, this tea tastes like a creamy maple flavored truffle in a cup, and none of the flavors taste artificial at all

A smooth, creamy, straightforward tea that won't leave a bitter or potent taste on your tongue. An ideal breakfast tea, its moderate levels of caffeine keep it from becoming overpowering, and because it lacks the high sugar concentration of actual maple syrup, you can enjoy it without feeling guilt for catering to your sweet tooth. I enjoyed mine most with a sprinkling of brown sugar to complement the toasted, amber-colored flavor.

This tea was very enjoyable, but neither the maple nor the creme were especially strong.

This is a wonderful oolong tea. The maple doesn't overwhelm the oolong. It is a smooth tea and perfect for Autumn.